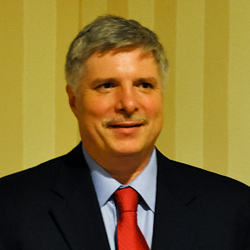 Part-time Faculty - College of Health and Human Services
Dr. Constantine holds a Ph.D. in Health Education and Research and is a licensed physician assistant with academic, administrative and organizational roles. He is a past president of the American Association of Surgical Physician Assistants (AASPA). He is a past chair of the Council on Surgical and Perioperative Safety (CSPS) and the Society of Critical Care Medicine (SCCM) Advanced Practice Provider Resource Committee and Surgery Section Patient Safety Committee. He is a Distinguished Fellow of the American Academy of Physician Assistants, a Fellow of the New York State Society of Physician Assistants, a Fellow of the Society of Critical Care Medicine, an Affiliate of the American College of Surgeons and a Founding Member for the Preservation of Physician Assistant History.
Dr. Constantine has a long history of interacting with health science students, physician assistants and nurse practitioners on a clinical, academic and administrative level. He has taught in several colleges and his other affiliations include local, state, national and professional organizations that support and recognize the role of advanced practice providers (APPs). He has practiced in surgical and critical care services over the course of his career. He is passionate about patient safety and quality outcomes. In 2010 he was presented with the John W. Kirklin Award for Professional Excellence.
Communication is key to education. Give a man a fish and he will eat for a day. Teach him to fish and he will eat for a lifetime - Chinese Proverb. As a former online college student, I am cognizant of the many challenges our students endure by furthering their education while maintaining employment. It is my objective to deliver a high quality, online education so that students can be motivated to succeed academically, professionally and personally. Dr. Roy Constantine
Programs
Bachelor of Science in Health Sciences
Publications
Kleinpell RM, Grabenkort RW, Kapu AN, Constantine R, Sicoutris C. Nurse Practitioners and Physician Assistants in Acute and Critical Care: A Concise Review of the Literature and Data 2008-2018. Crit Care Med 2019.
Gestring M. & Papadakos, PW. Encyclopedia of Trauma Care- Springer (2014) Essay Submission - Trauma Centers Roy Constantine (Section Editor)
Guglielmi CL, Flowers J, Dagi TF, Constantine RH, McKibban T, Greenier E, MacPherson J, Shostek K, Parker DR, Groah LK. Empowering Providers to Eliminate Surgical Fires. AORN J 2014: Oct:100(4): 412-28
Taylor, DA, Sherry SP, Sing RF (2016). Patient Safety - Interventional Critical Care: A Manual for Advanced Care Practitioners Springer - Chapter: Patient Safety
Papadakos P, Berman P. (2017). Distracted Doctoring - Returning to Patient-Centered Care in the Digital Age - Springer - Chapter - Electronic Devices as Potential Sources of Biological Contamination
Ballweg R, Brown D, Vetrosky D, Ritsema TS (2017). Physician Assistant: A Guid to Clinical Practice - 6th Edition, Elsevier Science - Chapter: The Electronic Health Record
Halpern NA, Sicoutris C, Constantine RH. Integrating Advanced Practice Providers Into the ICU, 2nd Edition, 2019, Society of Critical Care Medicine
Ballweg, Sullivan, Brown & Vetrosky. 2013. Physician Assistant: A Guide to Clinical Practice 5th Edition. Elsevier Science Chapter: The Electronic Health Record
Presentations
D21/E21: Code Red A Team Approach to Surgical Fires - app.ihi.org
Advanced Practitioners in Critical Care: Assembling the Building Blocks of the New Staffing Paradigm
Advanced Practice Providers Series - Developing Formal Orientation and Onboarding for Advanced Practice Providers
Areas of Expertise
Dr. Constantine's areas of expertise include:
Surgery
Critical Care
Advanced Practice Provider (PA and NP) Education
Advanced practice Provider (PA and NP) Research
Patient Safety
Patient Quality Outcomes
Education History
PhD in Health Sciences - Touro University International (2006)
MPH in Health Policy and Management - New York Medical College (1994)
BS in Health Administration - Saint Joseph's College (1983)
Associations
Council on Surgical and Perioperative Safety
American Association of Surgical Physician Assistants
American Academy of Physician Assistants
New York State Society of Physician Assistants
Society of Critical Care Medicine
American College of Surgeons
American Society of Professionals in Patient Safety
International Hepato-Pancreato-Biliary Association
Honors & Awards
John W. Kirklin Award for Professional Excellence