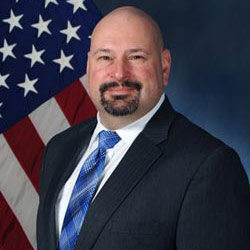 Part-time Faculty - Glenn R. Jones College of Business
Trident Graduate | Class of 2017
Dr. Gary A. Covella is the Military Personnel Appropriation (MPA) Man-day Program Manager, Department of Manpower, Personnel and Services Division, Headquarters, Air Force Special Operations Command, Hurlburt Field, Florida.
Dr. Covella was born in Staten Island, New York and enlisted in the U.S. Air Force in 1985. He earned a Bachelor's degree in Resources Management from Troy State University in 1999. He went on to earn a Master's degree in Human Relations from the University of Oklahoma in 2003. He served on Active Duty for more than 21 years before retiring from the Air Force and starting his Civil Service career in 2006. In 2017, Dr. Covella completed a Ph.D. in Business Administration and conducted an independent research study on turnover intention in the workplace. He is also the author of 20 self-published books on finance, business, and motivation.
Dr. Covella initially served in the Security Police career field. He retrained into Personnel in 1990, assisting in the standup of Air Force Special Operations Command (AFSOC) as a new MAJCOM. He then went on to become a Personnel Readiness technician during Operation Desert Storm, becoming a command expert on the Manpower and Personnel Module – Base level data accountability system. This expertise led to his selection to become a member of the headquarters staff. Dr. Covella developed the first PERSTEMPO tracking system, reporting high demand statistics to USSOCOM for the first ever command-wide look at deployment rates. In 1998, Dr. Covella was selected to work for Headquarters Air Force Materiel Command, developing a database application which tracked deployed Airmen supporting Operation Deliberate Force, saving the command over $200,000 in database development contracting costs. While stationed at Ramstein AB, Germany, Dr. Covella developed an AF-wide formal training database adopted by USAFE to automatically produce orders and travel costs for active duty members attending training courses. Dr. Covella was deployed to Kirkuk, Iraq in 2003 and helped establish a coalition-friendly base which became an aerial delivery hub during the later stages of the operation to reestablish the country. He ran the largest overseas military personnel customer service unit at Ramstein AB, Germany in 2004. In 2005, he helped establish Air Force Special Operations Forces (AFSOF) as a warfighting headquarters which eventually grew to become 23d Air Force. He was selected to become the current MPA Man-day Program Manager in 2007.
Programs
Doctor of Business Administration (DBA)
Publications
Leadership's Role in Employee Retention. Business Management Dynamics, 7(5).
Military Status
Status: Retired
Branch: US Air Force
Rank: MSgt
Years: 21
Education History
Ph.D. in Business Administration - Trident University International (2017)
MS in Human Relations - University of Oklahoma (2003)
BS in Resources Management - Troy State University (1999)
AAS in Personnel Management - Community College of the Air Force (1997)
Honors & Awards
AFSOC Civilian, CAT II of the Year, 2015
AFSOC Civilian, CAT II of the Year, 2016
Meritorious Service Medal with 1 OLC
Air Force Commendation Medal with 2 OLC
Air Force Achievement Medal with 3 OLC
Joint Meritorious Unit Award with 1 OLC
Meritorious Unit Award
AF Outstanding Unit Award with 8 OLC
AF Organizational Excellence Award with 2 OLC
General Horace M. Wade Award, 2002
General Horace M. Wade Award, 2011
Roger M. Blanchard Award, 2008
Areas of Expertise
Mr. Covella's areas of expertise include:
Business Innovation
Creativity
Human Resources
Management
Organizational Science
Leadership
Employee Retention