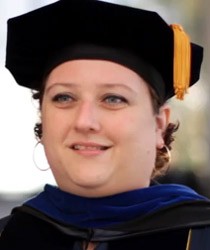 Trident University International Graduate
Class of 2013
Dr. Jessica Egbert's pursuit of a degree in research and new knowledge will propel her into the future and enable her to influence her profession to better serve her students. Her personal goal is to understand and apply knowledge in an educational setting to make a difference. Possessing knowledge and confidence to communicate effectively with other leaders in education and researchers is crucial to her. She aims to hold conversations, make an impact in her field, and truly matter.
Testimonial
You combine the curriculum, the faculty, the institutional accreditation, and the value and it was a wonderful fit for me. Dr. Jessica Egbert
Dr. Egbert aspires to make a meaningful impact on her students and the field of education. This program and opportunity have provided her with the means to achieve her goals. She has confidence in her ability to matter and create a positive change in the lives of her students and in the field of education.