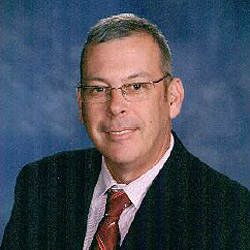 Trident University International Graduate
Hall of Distinguished Alumni | Class of 2009
As the founder of the original NCO Website and its successors Squad-leader.com and Firstsergeant.com, Dan played a crucial role in creating grass-roots collaboration centers for soldiers. Recognized for his contributions to Army knowledge management, Dan was awarded the first-ever Army Knowledge Management Pioneer Award in 2003 and later donated the successful sites to the Army, which became the BCKS NCO Net and won an Army Knowledge Management Award in 2007.
After retiring from the Army with 26 years of service, Dan joined Computer Sciences Corporation as a knowledge management professional and later founded Topsarge Business Solutions, where he serves as the Chief Consultant and Knowledge Officer. Holding a Bachelors of Science degree in Business Administration from Touro University, California and certified in Knowledge Management, Dan offers consultation services in collaboration techniques, knowledge management and is a social media advocate to the Central Texas community across public and private sectors.
CSM Dan Elder joined the Army in 1981 and served in various leadership positions, ranging from a squad to the most senior enlisted rank, with 11 years of experience as a Command Sergeant Major. His assignments included duty as an instructor, drill sergeant, first sergeant and on the staff of the Sergeants Major Academy, finishing his career as the Senior Enlisted Advisor of the U.S. Army Materiel Command. Deploying to operations in Bosnia-Herzegovina and Iraq, Dan was also a member of the Sergeant Major of the Army Board of Directors and served as the CSM for then incoming Chief of Staff Gen. George Casey's transition team, where he interviewed senior enlisted leaders Army-wide.
A noted expert on NCOs, Dan was the general editor and author for the Center of Military History's book "Sergeants Major of the Army" and an Advisory Team member for the Army Research Institute. He is the author of "Educating Noncommissioned Officers" and has published several articles on U.S. Army NCOs. Dan has also consulted with publishers and authors on topics such as "Guardians of the Republic," "The Three Meter Zone," and "The Shake and Bake Sergeant."
Military Experience
Status: U.S. Army Veteran
Branch: U.S. Army
Rank: Command Sergeant Major (Retired)
Years: 1981-2007
Accolades:

All levels of NCO education programs
Command Sergeants Major Course
Garrison CSM Course
Battle Staff NCO Course
CSM Force Management Course
National Defense University's Keystone Command Senior Enlisted Leader Course
Education History
BS in Business Administration - Trident University International (2009)
Certification in Knowledge Management (CKMP) from the KM Professional Society
Honors & Awards
Distinguished Service Medal
The Legion of Merit (2)
Bronze Star Medal
Meritorious Service Medal (4)
Recipient of the Ordnance Order of Samuel Sharpe
2010 Inductee into the U.S. Army Sergeants Major Academy Hall of Fame