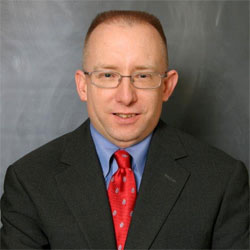 Contact Information
Part-time Faculty - Department of Information Systems
Mr. Steve Gralewski is adjunct instructor for Trident's IT department. He is currently is a Contingency and Disaster Recovery supervisor for a large hospital system and has served as a Chief Information Officer for a large healthcare system in the Midwest. Prior works include being a senior consultant to the military. Steve has worked for a couple consulting firms in the Washington DC area; his consulting role consisted of information systems, organizational development, medical readiness and human resource management information systems.
Mr. Steve Gralewski has held many leadership and consulting positions within the IT field; working both in the public and private sector. Much of his experience is within medical IT; while serving as an adjunct faculty member for Trident he also held a leadership position that provides IT services for medical facilities spanning 14 states. Some of his past positions included a hospital CIO, IT consultant in Washington DC, enterprise help desk manager, deployment manager for an enterprise resource planning tool, and IT operations manager for a medical school. Mr. Gralewski holds an MBA from Trident University as well as an MPA from Jacksonville State University.
Programs
Bachelor of Science in Information Technology Management
Master of Science in Information Technology Management
Areas of Expertise
Mr. Gralewski's areas of expertise include:
Information Technology
Operations Management
Healthcare Management
Business Management
Military Status
Status: Retired
Branch: USAF
Rank: MSgt
Years: 22
Mr. Gralewski served 22 years in the United States Air Force. His assignment included: Texas, Panama, Germany, Nebraska, and California. He had two deployments: Bosnia & Saudi Arabia (Khobar Towers). While in the Air Force Steve was an IT Operations Manager for the medical school. Additionally, he served in Medical Readiness and air evacuation of patients using fixed and rotary wing aircraft.
Professional Experience
30+ years progressive healthcare management/leadership, experience at all levels: contingency/field, clinic, hospitals, and headquarters. Reputation as an outstanding leader, team builder, program/project manager, and strategic innovator
Skills: Information Technology, Human Capital Management, Medical Administration, Resource Management, Program Management, leadership, and Emergency Management
Extensive work experience centered in Medical Information Systems/Information Management (IM/IT), Medical Readiness, and Healthcare Resource Management - Held multiple positions in the Healthcare Management field all with proven results
Education History
MBA - Trident University International
MPA/Emergency Manager - Jacksonville State University
BS in Healthcare Management - Mountain State University
BS in Business Management - College of West Virginia
Associations
American College of Healthcare Executives
Infraguard
Disabled American Veterans
Veterans of Foreign Wars
American Red Cross