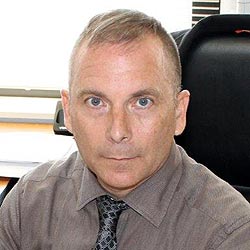 Part-time Faculty - Glenn R. Jones College of Business
Class of 2016 / 2006 / 2004 - Trident Triple
Dr. Havrilko completed a Ph.D. in Business Administration at Trident, as well as degrees at the master's and bachelor's levels. He is one of only nine alumni to have earned a degree at each program level from Trident. His education at Trident University significantly developed his critical decision making capabilities, confidence, and patience.
Dr. Havrilko expresses gratitude to the extremely support and understanding faculty and staff at Trident University. He would like to extend special thanks to the following people for their outstanding support and encouragement:
Dr. Qin Sun, Dr. Indira Guzman, Dr. Atefeh Yazdanparast, Dr. Heidi Sato, Dr. Joshua Shackman, Dr. Stephen Pollard, and Dr. Stephen Fitzgerald.
Dr. Havrilko is a retired United States Air Force Master Sergeant with 22 years of active service and is currently serving as a Department of Defense Air Force civilian. He is the Vehicle Fleet Management and Analysis Manager at the 366th Logistics Readiness Squadron, Vehicle Management Flight, Mountain Home Air Force Base, Idaho. He has extensive experience in logistics, finance, supply, and transportation operations. Vincent earned a Bachelor of Science in Business Administration (Criminal Justice Concentration), Masters of Business Administration (Logistics Concentration), and a Ph.D. in Business Administration (Management and Organizations Concentration) from Trident University International, California. He is also employed as a part-time faculty member with Trident University and currently teaches MGT301: Principles of Management.
Favorite Quote
"I'm a great believer in luck and I find the harder I work, the more I have of it." Thomas Jefferson
Programs
Bachelor of Science in Business Administration
Publications
Internet addiction and repeat purchase intention: Exploring the moderating effects of brand trust, neuroticism, risk aversion, post purchase regret and intrinsic motivation
Presentations
Havrilko, V., Sun, Q., Yazdanparast A., & Guzman I. (2017). An empirical investigation of Internet addiction and repeat purchase intention: Moderating roles of intrinsic motivation, brand trust and risk aversion. Abstract presented at the 39th Annual ISMS Marketing Science Conference, June 7-10, Los Angeles, California.
Areas of Expertise
Dr. Havrilko's areas of expertise include:
Undergraduate education
Military logistics operations
Transportation fleet management
Supply and materiel management
Statistical analysis (SPSS, AMOS)
Professional Experience
Multifaceted and Highly Skilled Leadership Professional offering more than 20 years' experience in both civilian and military work environments with expertise in financial management, business administration, and fiscal accountability, assessing all situations, analyzing information, and presenting proposals for action.
Financial Management: Highly skilled in the coordination and management of financial activities, analyzing and preparing financial reports, watching performance indicators, and advising on expenditures to ensure achievement of financial goals. Performed formulation, justification, presentation, and execution of a $53M wing budget.
Program Management and Analysis: Apply knowledge of analytical and evaluative methods as well as financial procedures to improve program effectiveness and cost control. Analyze operating expenses and funds allocation and maintain financial documents; processed documents to account for $12M in funds and $3.2M in travel orders.
Leadership and Direction: Lead and motivate high-performance teams. Identify and mitigate risks, using time management and organizing skills to ensure efficient operations and program progress to meet goals. Provided leadership to a highly skilled team of 77 military and 24 civilian personnel across 15 separate work centers.
Computer Expertise: Microsoft (MS) Operating System; MS Software (Word, Excel, Access, PowerPoint, Outlook, Explorer/Edge); Statistical Analysis (SPSS, AMOS)
Military Status
Status: Retired
Branch: U.S. Air Force
Rank: Master Sergeant
Years: 22
Accolades: 2007 Air Combat Command Logistics Readiness Transportation Civilian Technician of the Year; Technician of the Month, 2007; Iraqi Campaign Medal, 2005; Air Force Expeditionary Service Ribbon, 2005; Outstanding Senior Non-Commissioned Officer of the Quarter, 1st Qtr 2002; Meritorious Service Medal, 2002; Air Force Commendation Medal, 1995, 1991; Air Force Achievement Medal, 1988; U.S. Air Force Certificate of Recognition; U.S. Air Force Certificate of Excellence
Education History
Ph.D. in Business Administration - Trident University International (2016)
Masters in Business Administration - Trident University International (2006)
Bachelors in Business Administration - Trident University International (2004)
Associations
Air Force Sergeants Association
Honors & Awards
Technician of the Month, 2007; Iraqi Campaign Medal, 2005; Air Force Expeditionary Service Ribbon, 2005; Outstanding Senior Non-Commissioned Officer of the Quarter, 1st Qtr 2002; Meritorious Service Medal, 2002; Air Force Commendation Medal, 1995, 1991; Air Force Achievement Medal, 1988; U.S. Air Force Certificate of Recognition; U.S. Air Force Certificate of Excellence