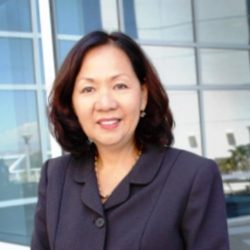 Full-time Faculty - University College
Ms. Hom has over 30 years of experience in the investment management industry operating within the insurance and public pension plan framework.
Most recently, Ms. Hom was the Chief Investment Officer for the Orange County Employees Retirement System, (OCERS), which provides retirement and disability benefits. In this capacity, Ms. Hom was responsible for the investment program and performance of the fund, which serves 22,633 active members and 12,243 member annuitants.
Prior to joining OCERS, Ms. Hom was the Chief Investment Officer of the $83 billion Ohio Public Employees Retirement System, which at that time, was the 10th largest pension system in the country. She worked at Swiss Reinsurance as Vice President and Director of Capital Markets. Prior to that role, she worked at the Lincoln Investment Management Company, an investment management subsidiary of the Lincoln Financial Group in various leadership roles. Her broad investment experience includes asset allocation, private and public asset classes, portfolio management, trading, research and analysis, and financial reinsurance in both domestic and international markets.
Ms. Hom has taught at Trident since 2013. She has taught College Mathematics, Statistics, and Finance over the past decade or so. Ms. Hom received a Master's Degree in Mathematics from Purdue University. She is a Chartered Financial Analyst (CFA) Charterholder.
Ms. Hom has over a decade of teaching experience in mathematics/statistics and finance/ investments. She has taught mathematics and statistics at Trident since 2013. Ms. Hom is a Chartered Financial Analyst (CFA) charterholder and is an expert in finance and investments. She was the Chief Investment Officer (CIO) at two large public pension funds and held investment leadership positions at private sectors. She can relate to students with multi-cultural background and is well-versed in facilitating remote education.
Favorite Quote
This too shall pass Abraham Lincoln
Areas of Expertise
Ms. Hom's areas of expertise include:
Mathematics
Statistics
Finance
Investment
Education History
Masters of Science in Mathematics - Purdue University
Bachelor of Science in Mathematics - College of the Holy Spirit
Chartered Financial Analyst (CFA)
Associations
Chartered Financial Analyst (CFA) Institute
Orange County of Financial Analysts
Honors & Awards
Awarded for Extraordinary and Sustained Service by California State University, Fullerton - 2015
Centennial Award for Business and Finance granted by the College of the Holy Spirit - 2013
Nominated for Innovation Award for funds under $15 billion by aiCIO – 2011
Award for Distinguished Achievements granted by the College of the Holy Spirit Alumnae Foundation – 2009