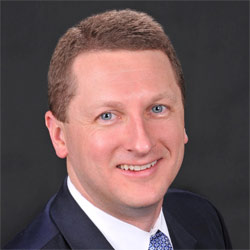 Part-time Faculty - Glenn R. Jones College of Business
Dr. Leon Jablow is a retired U.S Navy Officer and current business executive and consultant.
He served in the U.S. Navy for more than 20 years as a Surface Warfare Officer and Expeditionary Officer. As a Surface Warfare Officer, he served on multiple ships as Engineer Officer and Commanding Officer in the United States, Europe, and Asia. As an Expeditionary Officer, he served as Operations Officer for a newly established Navy command that conducted operations throughout the globe in Asia, Africa, South America, and the Middle East. He also served as Director of a special activities group in the Middle East. While ashore, he served as the Chief of Naval Operation's briefer, attended the U.S. Naval War College and served as an Associate Fellow on the Chief of Naval Operations Strategic Studies Group.
After retiring from the military, he became Vice President of Business Development and Strategy for a government defense contractor involved in security operations and training. He later became a Consultant Manager for a large multi-national consulting technology firm where he provided organizational change management to clients involved in enterprise transformation projects. He also served as the executive advisor for the Associate Director of a Federal Agency implementing an Enterprise Data Strategy. Currently, he is the Director for a program that facilitates rapid solution and decision making workshops for executive clients.
Dr. Jablow is Owner and President of an independent consulting firm that provides management consulting services involving organizational strategy and decision making for corporate and government clients.
Programs
Master of Business Administration
Master of Science in Leadership
Publications
(October 2013). Exposing Experience: The Influence of Experience on Executive Decision Processes. European Journal of Management.
(August 2012). Exposing Experience: A Grounded Theory Study Exploring the Influence of Experience on Executive Decision Processes. UMI Dissertation Services.
(2003). Independent report concerning future concepts of human performance, networks, communications and decision making. Sententia.
Presentations
The Relationship Consequence Theory of Experience. International Academy of Business and Economics (IABE). October 2013.
Proficient Use of Personnel, Tools, and Technology in Civil Military Operations. International Industry Training, Simulation, and Education Conference (I/ITSEC). December 2011.
Areas of Expertise
Dr. Jablow's areas of expertise include:
Leadership
Decision Making
Organizational Management & Development
Collaboration & Team Building
Strategic Planning
Research & Analysis
Innovation & Problem Solving
International Relations
History
National Security
Military Status
Status: Veteran
Branch: Navy
Rank: Commander
Years: 22
Accolades:


Surface Warfare Officer - Commanding Officer in USS Robin/MHC Crew Gallant / Engineer Officer in USS Comte De Grasse, USS Deyo, and USS Cowpens
Chief Of Naval Operations Briefer
Chief of Naval Operations Strategic Studies Group Associate Fellow
Director - CENTCOM Coordination Planning Group , Kingdom of Saudi Arabia
Operations Officer - Maritime Civil Affairs Group
J5/9 Planner - Combined Joint Task Force, Horn of Africa
Education History
PhD in Organization and Management - Capella University (2012)
MA in National Security and Strategic Studies - U.S. Naval War College (2002)
MA in International Relations - Catholic University of America (1998)
BS in History - U.S. Naval Academy (1991)
Associations
North Carolina Defense Business Assoc. (NCDBA)
Science/Technology Committee
Institute of Management Consultants (IMC)
North Carolina Military Business Center (NCMBC)
USNAA Triangle Chapter
North Carolina Veteran's Business Association
Military Officers Association of America (MOAA)
Veterans of Foreign Wars (VFW)