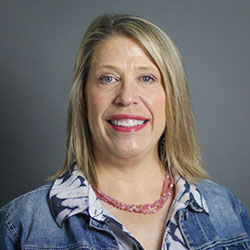 Associate Dean - Glenn R. Jones College of Business
Jill M. Johnson, MAIO, Ed.D. Jill Johnson, Ed.D., brings more than nineteen years experience in higher education to her position. She holds a Masters Degree in Organizational Psychology, a certificate in Organization Development from the University of Minnesota, and a Doctorate in Educational Leadership from the University of St. Thomas. She began her career in 1993, teaching Sociology with a community college and moved to the Twin Cities where she became a technology trainer for a county government body.
After taking a job with a University in 1996, she began teaching introductory courses in sociology and computer science. She transitioned to another Institute as the Chair of General Education, Graphic Design, and Computer Animation, later coming back to the first group as the National Director of the College of Undergraduate Studies in 2005.
Dr. Johnson is a solutions-oriented leader with 14 years of management experience; accomplished in outcomes assessment, strategic planning, policy development, research & data analysis. She has experience working with professionals at all levels, skilled with interpersonal coaching, conflict resolution, project management, change management, and staff development. She is accomplished in developing scalable solutions in alignment with short and long term goals amongst local and national stakeholders, and has 20+ years experience teaching adult learners Intro Computer & Social Science courses. She is an active volunteer with her public school district, served a three year term on the district's curriculum advisory council, and served three years as chair of the board for a local arts college.
Programs
Bachelor of Science in Business Administration
Bachelor of Science in Leadership
Bachelor of Science in Human Resource Management
Areas of Expertise
Dr. Johnson's areas of expertise include:
Human resource management
Organizational development
Organizational Psychology
Educational leadership
Sociology
Computer science
General education
Graphic design and computer animation
Research and data analysis
management
Education History
Ed.D. in Educational Leadership - University of St. Thomas (2007)
MA in Public Administration - Hamline University (2006)
MA in Industrial Organizational Psychology - Argosy University (2014)
BA in Sociology - UW Madison
Certificate in Organization Development - University of Minnesota