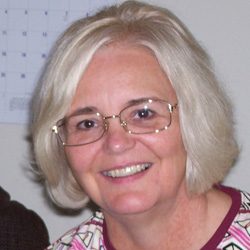 Part-time Faculty - Glenn R. Jones College of Business
Dr. Virginia Johnson holds a Ph.D. in Organization and Management with an emphasis in Leadership from Capella University. She also has a Master's degree in Organizational Management and a Bachelor's degree in Business Management; both from the University of Phoenix. She has been an educational administrator holding the position of Program Chair for General Education at Brown Mackie College, Director of Admissions-Evaluation, and prior to that was the Associate Director of International Student Admissions. The latter was during her eleven years with the University of Phoenix. She has been teaching since 2001 and in 2010 decided to make teaching her primary focus.
Dr. Johnson has worked in higher education since 1993, holding a variety of positions from Financial Aid, Admissions Director, and College Instructor. She enjoys teaching the most and that is where she has dedicated her attention since 2001. Teaching is Dr. Johnson's passion and she thoroughly enjoys the online teaching environment because it provides the opportunity to participate in discussions while also allowing the freedom to attend class at each person's convenience. Online also allows instructors to get to know each student on an academic level that is often unobtainable in the on-ground classroom.
Dr. Johnson is married to her high school sweetheart and has two grown children and three grandchildren: two girls and a boy. She loves being a Grandmother. She finds having special time with her grandchildren to be very rewarding.
In her spare time, Dr. Johnson loves to read mystery novels and scrap book. She usually has at least two books and two scrapping projects going all the time. She is a member of Love of Christ Lutheran Church and has served on the committees for Prayer Warriors and Financial Counting of the weekly offerings.
Dr. Johnson is "very happy to be a part of this dynamic educational institution. I prefer to go by my nickname of Ginger".
I am enthusiastic to bring students into a learning environment using a unique combination of education experience coupled with over twenty years of business experience and fifteen years of teaching experience. Dr. Virginia Johnson
Programs
Bachelor of Science in Business Administration
Master of Business Administration
Master of Science in Leadership
Publications
Barriers to enrollment, admissions, and retention for international students in the U.S. postsecondary education system.
Ethics and Leadership in Education-AACRAO
Presentations
Ethics and Leadership in Education - AACRAO - March 2004
Areas of Expertise
Dr. Johnson's areas of expertise include:
Leadership
Organizational Management
Conflict Resolution
Ethics
Virtual Teams and Team Collaboration
Mentoring and Coaching Employees
Communication
Education History
Ph.D. in Organization and Management with an emphasis in Leadership - Capella University (2008)
Masters Degree in Organizational Management - University of Phoenix (2002)
Bachelor's degree in Business Management - University of Phoenix (2000)