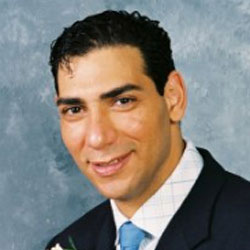 Dr. Madjid "MJ" Karimi PhD, CPH
Part-time Faculty - College of Health and Human Services
Dr. Karimi holds the rank of Adjunct Professor at the College of Health Sciences, Trident University International (TUI). His academic interests include individuals with disabilities, those with cognitive, intellectual and developmental disabilities (ID/DD). He has performed extensive research and published in the areas of health care transition and quality for youth with ID/DD. Dr. Karimi is also active in the areas of equitable services for children and families from culturally and linguistically diverse background. He has a particular interest in language diversity including effective cross-cultural communication, and bilingualism for children and families considered at risk and those who have disabilities.
Dr. Karimi is a Health Scientist at the U.S. Department of Health and Human Services, Office of Assistant Secretary for Planning and Evaluation, Office of Health Policy. His work portfolio includes projects related to ID/DD, substance use disorder, child health and human development, and telehealth.
Previously, he worked as a Senior Scientist at the Center for Behavioral Health Statistics and Quality within the Substance Abuse and Mental Health Services Administration (SAMHSA). Dr. Karimi also served as the Senior Policy Advisor to the Director of the Office of Extramural Policy at the National Institutes of Health, Eunice Kennedy Shriver National Institute of Child Health and Human Development (NICHD). In this role, he provided a wide range of program management and portfolio analysis functions.
In 2012, Dr. Karimi was certified in Public Health Epidemiology and Bio-statistics by the George Washington University, Washington, D.C. He received his PhD in Health Sciences, Global Health, from TUI, Cypress, California; Bachelor of Science degree in Health Care Management from the Southern Illinois University, Carbondale; Associate in Science and Associate in Arts degrees in Pre-medicine and Environmental Science and Policy from Montgomery College, Rockville, Maryland.
Favorite Quote
You are not here merely to make a living. You are here in order to enable the world to live more amply, with greater vision, with a finer spirit of hope and achievement. Woodrow Wilson, the 28th President of the United States
Publications
http://pqdtopen.proquest.com/pqdtopen/doc/1528550908.html?FMT=ABS.
https://aspe.hhs.gov/reports/hps-analysis-telehealth-use-2021.
https://aspe.hhs.gov/reports/improving-data-infrastructure-pcor-people-iddd.
Areas of Expertise
Dr. Karimi's areas of expertise include:
Cognitive, Intellectual, and Developmental Disabilities
Education History
Ph.D. in Health Sciences (Global Health) - Trident University International (2014)
BS in Health Care Management - Southern Illinois University (2006)
AS/AA in Pre-medicine and Environmental Science and Policy - Montgomery College (2005)