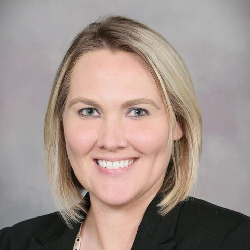 Dr. Cox-Kelley holds a Bachelor of Science in Kinesiology and Health Studies, a Master of Science in Health Education and Promotion, a Master of Science in Biological Science and a Doctorate in Higher Education Supervision, Curriculum, and Instruction all from the University of Texas A&M Commerce campus. Dr. Cox-Kelley also holds a Master Certified Health Education Specialist certification, a Board Certification in Public Health, and a Community Health Worker Instructor certification.
Dr. Cox-Kelley has extensive experience in online education design, healthcare provider education, and community health promotion and assessment. She has a research interest in special populations and specifically the impact of educational attainment on health outcomes in diverse communities. Dr. Cox-Kelley's research passions blend into her teaching style, which focuses on diverse student bodies and creating opportunities for students to thrive through social connectedness, a growth mindset, engaged learning, academic determination, and positive perspectives.
Dr. Cox-Kelley maintains an educational philosophy that is student-centered, focusing on education that is cooperative, collaborative, and supportive involving learning between both the professor and the student, with emphasis on students gathering knowledge through inquiry, communication, critical thinking, and problem solving.
Favorite Quote
Education is for improving the lives of others and for leaving your community and world better than you found it. Marian Wright Edelman
Programs
Bachelor of Science in Health Sciences
Bachelor of Science in Health Administration
Master of Science in Health Administration
Master of Science in Health Sciences
Publications
Cox-Kelly, S. (2019). Anatomy and Physiology 1 and 2 Online Course. Caduceus International Publishing. www.cipcourses.com
Cox-Kelley, S & Fenter, S. (2014) Emotional Intelligence as a Predictor of Employee Turnover in a Healthcare Setting. International Journal of Business and Social Science. (5) 9
Cox-Kelley, S. & Justice, M. (2013) An Exploration of Emotional Intelligence and Job Performance Among Nurses in Rural Texas. American International Journal of Contemporary Research. (3) 7
Professional Experience:
The beginning of Dr. Cox-Kelley's professional career was as Director of Education at a Rural Hospital, where her role was to focus on educational programming for employees, patients, and the community. Dr. Cox-Kelley then had the opportunity to serve in multiple roles at the University of Texas Health Science Center, as a program administrator, researcher, and assistant faculty of medicine. Dr. Cox-Kelley's time at the academic medical center allowed her to gain expertise in environmental and occupational medicine as well as conduct research in chronic disease management and pediatric environmental health. Dr. Cox-Kelley then spent the next 10 years working in administrative and teaching roles as a Dean and Department Chair at Northeast Texas Community College and East Texas Baptist University.

Currently Dr. Cox-Kelley is focusing on her passion for education by serving as a faculty member in the Health Sciences department and working towards creating and teaching courses that prepare students for roles in the health sciences field.
Areas of Expertise
Dr. Wirth's areas of expertise include:
Environmental Science
Social Justice
Health Administration
Health Education and Promotion
Program Planning and Assessment
Human Biology
Pathophysiology
Microbiology
Health and Wellness
Associations:
General Member, Society of Public Health Education (SOPHE)
General Member, American Public Health Association (APHA)
General Member, Texas Public Health Association (TPHA)
General Member, Human Anatomy and Physiology Society (HAPS)