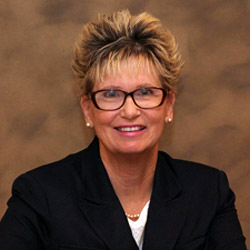 Full-time Faculty - Glenn R. Jones College of Business
Dr. Lamb is a Full-time Professor of human resource management courses for Trident University's Glenn R. Jones College of Business. She began working for Trident University in 2009. Dr. Lamb's graduate and undergraduate teaching experience includes Ottawa University, Strayer University, Northern State University, Allied American University, Brown Mackie College, Excelsior College, Harrison College, National College, William Howard Taft University, and Marco Polo International University. She has taught in both the classroom and online environments. Dr. Lamb's areas of expertise include general business, human resource management, leadership, management, organizational behavior, marketing, and business ethics.
Dr. Lamb has over 25 years of experience in the business world in the manufacturing, mortgage, insurance, and legal disciplines. In addition, Dr. Lamb was in the Marine Corps from August 1981 through January 1990. During those years, she was primarily in administration; however, for two years Dr. Lamb was a Drill Instructor at Parris Island, SC. She was also trained as a Primary Marksmanship Instructor. While enlisted, Dr. Lamb completed NCO School, Staff NCO School, The Basic School, Command and Staff School, and the Amphibious Warfare College--all via Marine Corps Institute courses. She also played softball for her various units and later a player/coach for company teams.
Once you lower your ethical standards just once, you've set yourself a new bar. Dr. Tina Lamb
Programs
Bachelor of Science in Business Administration
Bachelor of Science in Leadership
Bachelor of Science in Human Resource Management
Master of Business Administration
Areas of Expertise
Dr. Lamb's areas of expertise include:
general business
human resource management
leadership
management
organizational behavior
marketing
business ethics
Military Status
Status: Veteran
Branch: USMC
Rank: CPL
Education History
Ph.D. in Organization & Management - Capella University (2009)
MBA in Marketing - Strayer University (2013)
MBA - Indiana Wesleyan University (2006)
BBA in Human Resources - Marian College (2004)
AA in Liberal Arts - St. Leo College (1984)
Associations
Ambassador for the Heart of Wisconsin Chamber of Commerce
Officer of Board of Directors of the Elks Lodge #693
Academy of Management
Society of Human Resource Professionals
Alpha Chi
American Marketing Association
Honors & Awards
Nominated for Teacher Excellence Award, Trident University, November 2016
In 2013, Strayer University's Milwaukee campus received Gold Award for highest Net Promoter Scores in 2012.
Received Outstanding Professional Award from Indiana Wesleyan University in 2006.
Graduated Summa Cum Laude from Marian University in 2004.