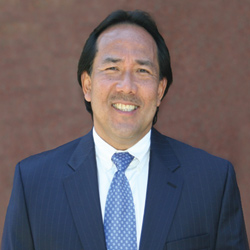 Trident University International Graduate
Hall of Distinguished Alumni | Class of 2011 / 2008
Dr. Cameron Lee is at the forefront of academic achievement and the community practice of surgery. He is a member of numerous professional organizations including the American Association of Oral and Maxillofacial Surgeons, the American College of Oral and Maxillofacial Surgeons, the American Academy of Implant Dentistry and is a Fellow and Diplomate of the International Congress of Oral Implantologists.
Dr. Lee is a dedicated educator and is extensively involved in continuing education. In addition to lecturing on topics in his surgical specialty, he has authored over 30 scientific articles in peer reviewed professional journals. He has extensive reconstructive surgical experience with a particular interest in bone biology and regenerative medicine. Dr Lee is at the leading edge of bioengineering technology with the use of bone morphogenetic proteins (BMP), mesenchymal stem cell (MSC) therapy and platelet rich plasma (PRP) to enhance wound healing.
In 1994, Dr. Lee introduced the concept of computer guided surgery in Hawaii, and he continues to push the surgical envelope in managing complex surgical cases utilizing in-office computer generated (CT Scans) images and interactive three dimensional (3DCT) computer software. Dr. Lee is considered a leader in implant therapy and is one of the most experienced implant reconstructive surgeons in Hawaii.
Education History
Ph.D. in International Health Practitioner - Trident University International (2008)
MBA - Trident University International (2011)