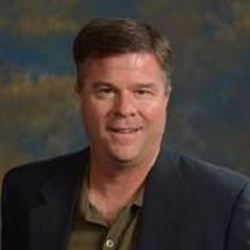 Part-time Faculty - University College
Dr. Thorburn has taught college since the summer of 1986 and he is primarily interested in what people who lived thousands of years ago have to offer us today. His doctoral degree is in Classical Literature, so he is interested in philosophy and religion (he prefers his philosophy and religion to be doled out primarily in Euripidean or Aristophanic form, but he has also very much enjoyed teaching courses in New Testament Greek).
Dr. Thorburn loves the challenge of teaching and he is quite keen on trying to figure out ways to help our student-colleagues learn. His favorite students are the malleable ones. They don't have to be the "sharpest tools in the shed," but they do have to work hard and be eager to improve.
His favorite student failed Greek the first time he was in my course. He went on to take seven other classes with me, though, and became a Classics major. He barely squeaked into a Master's program and barely escaped it as well. No American doctoral program would take him, so he went abroad and finished his PhD in Classics from St. Andrews. He now has a tenure-track position at Wake Forest and has already published his first book.
John Thorburn holds a Ph.D. in Classics from the University of Colorado, is an Associate Professor of Classics, and has taught a variety of subjects dealing with the classical world, literature, and etymology. He has published more than a dozen articles on Greek tragedy, Greek comedy, Greek and Roman history, and subjects related to the classical world. John has also authored The Alcestis of Euripides (2002) and the Facts on File Companion to Classical Drama (2005).
Dr. Thorburn is also the father of two daughters, an avid bicyclist, musician, and sports fan. He spent the summers of his high school and college years working for the Texas Rangers baseball team. He even spent one season serving as the Rangers' mascot. The highlight of his involvement with sports, though, was being able to run on the ancient stadia at Olympia and Delphi in 1996.
Testimonial
Typos are deadly because employers interpret them as a lack of detail-orientation, as a failure to care about quality. Lazlo Bock, Head of HR at Google
Presentations
'Suetonius' Claudius: A Fool in Space' delivered at the Rocky Mountain Modern Language Association meeting in Snowbird, Utah, on October 8, 2009.
'Vulgate Latin in the Classical Classroom' delivered at the American Classical League meeting in Los Angeles, California, on June 28, 2009.
"'You Oughta Know' and Wild Things: Pop Culture Echoes of Medea in the 1990s'" delivered at conference entitled 'Medea: Permutations of a Myth' in Bristol, England on July 17, 2006
Publications
Facts on File Companion to Classical Drama
The Alcestis of Euripides: with Introduction, Translation, and Commentary.
Introductory Readings in Vulgate Latin. Charlotte, N.C.: www.lulu.com, 2008.
"Thesis Statements"
"How to Avoid Plagiarism"
In-text Citations APA: The Basics
'John McNaughton's Wild Things: Pop Culture Echoes of Medea in the 1990s,' Legenda 2010: 113-123.
'Aristophanes' Lysistrata and Comic Role-Exit,' Philological Explorations. Edited by Gilda M. Socarrás. Athens: ATINER, 2009. 237-248.
'Suetonius' Tiberius: A Proxemic Approach,' Classical Philology 103.4 (2008) 435–48.
Areas of Expertise
Dr. Thorburn's areas of expertise include:
Classical Drama
Classical History
Computer Applications in Classics
Greek
Latin
Classics
Education History
Ph.D. in Classical Literature - University of Colorado (1992)
M.A. in Classical Humanities - Texas Tech University (1988)
B.S. in Secondary Education - Baylor University (1986)
Honors & Awards
San Marcos Texas Lions Club Teacher of the Month (January 2015)
Featured Alumnus, University of Colorado Classics Department Newsletter (Fall 2008)
Alpha Delta Pi's Top 100 Baylor Professors (2008)
College of Arts and Sciences Teaching Award (2007)
Mortar Board 'Circle of Achievement Award' (2002)