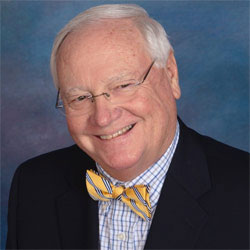 Dr. Robert W. "Bob" Touro DM
Part-time Faculty - Glenn R. Jones College of Business
Dr. Bob's career spans more than 40 years of industry experience beginning in finance, accounting and credit management and for the past three+ decades, domestic and international sales and marketing management.
During the last 35 years, Dr. Bob developed business and marketing plans and managed programs on behalf of major corporations, entrepreneurial start-ups and medium sized concerns within the high tech disciplines of computer and communications software, services, e-Business, e-Learning and IT consulting. Over the years he has held positions at the Director, Vice President, President, Principal and COO and CMO levels on behalf of his various employers.
Dr. Bob has created, developed and managed direct and in-direct sales channels, alternate distribution channels (VARs, VADs and ISOs), strategic alliances and partnering relationships, telemarketing and direct mail/database campaigns. His vertical industry experience includes high tech, banking and financial services, healthcare, discrete manufacturing, distribution and consumer retail.
Retired from corporate life as of December 2015, Dr. Bob's last position was Vice President Marketing and Business Development for Jacksonville, Florida based Cybermax, Inc.(www.cybermaxinc.com). Cybermax is a web solutions company developing E-Business and E-Learning solutions for manufacturers, distributors, retailers, associations and others engaged in conducting business using the Internet (B2B/B2C – via Internet, Intranets and Extranets).
Dr. Bob's professional career spans nearly five decades of experience in the corporate arena both domestically and globally. He has worked for and with the Fortune 500 and Global 100 companies of the world.
Dr. Bob has his MA.Ed in E-Education (Adult Learning and Distance Education) from the University of Phoenix and his BS/BA in accounting and management from Johnson & Wales University in addition to pursuing MBA coursework at the University of Massachusetts Dartmouth. Dr. Bob completed his Doctor of Management degree with a concentration in Emerging Media (DM-EM) conferred by Colorado Technical University in March 2015. He resides with his wife and youngest son in Jacksonville, Florida, and has three older married siblings (another son and 2 daughters) with four grandchildren (two girls, two boys)!
Dr. Bob currently devotes the majority of his time to instructing online at several international universities, primarily in the college of business conducting courses in management, marketing, internet technologies and ethics primarily at the graduate degree level.
Retired from corporate life, Dr. Bob has been a multi-award winning university instructor on behalf of several online universities, beginning his third career in education since October 2004 through the present.
Trident Teaching Excellence Award
Dr. Touro was nominated by students in two different courses and two different sessions, and selected from among six faculty finalists for this award based on the strength of the students' nominations in combination with evidence of his teaching effectiveness.
He received a perfect 100% average NPS score from the six students who submitted course evaluation surveys, as well as perfect 5.0 averages from those six students on both quality of instruction and faculty-student interaction – an extraordinary achievement.
Overall, 68 faculty were nominated by 88 students in the June, July, August, and/or Summer 2016 sessions.
Testimonial
Dr. Bob was positive, helpful, knowledgeable, fair and prompt. Every assignment was graded quickly and with feedback that made me want to work harder on my papers and in the class. I could not have asked for a more polite and respectful professor. He was personal when it came to giving feedback and I never felt like I was just another student but an actual person. I would recommend him to anyone that wants to learn and have an enjoyable experience while doing so. Thank you so much for your professional guidance. Hopefully I will be so lucky to have you as a professor again in the near future. Stephen, ETH301, July 2016
Programs
Bachelor of Science in Business Administration
Bachelor of Science in Leadership
Master of Business Administration
Master of Science in Leadership
Presentations
A salute to our men and women in uniform.
Making visually appealing and entertaining PPT presentations.
A Discussion of current social & economic Issues of our time.
Are you cut out to be an entrepreneur?.
If you are not happy with the life you have - change it!.
Publications
Is anyone ready for the graying of America? The Insights Forum; December 2014 Edition.
Seniors, Entitlements and Social Media – Oh My!.
A baby boomer determined to be a life learner.
Areas of Expertise
Dr. Touro's areas of expertise include:
Business
Management
Marketing
Leadership
Ethics
Internet, E-Business/Commerce and Related Technologies
Supply Chain Management
Education History
Doctor of Management - Emerging Media (DM-EM)
MA in Education: Adult Education & Distance Learning
BS in Business administration: Accounting and Management
Associations
Florida Notary Public – my commission expires 9/21/2019
Florida – Real Estate Agent License
Florida – Sellers of Travel, Independent Sales Agent
International Association of Travel Agents (IATA) - Member
National Association of Credit Management – Certified Credit Executive (CCE)
Academy of Management – Member
American Marketing Association - Member
The International Society of Organizational Development – Member
United States Distance Learning Association - Member
Collaborative Institutional Training Initiative (CITI), License 7859962
Basic Refresher Course - Human Subjects Research Curriculum Completion Report CITI Collaborative Institutional Training Initiative (CITI), License 7859961
Honors & Awards
Trident Teaching Excellence Award 11/11/2016
Recipient of the 2013-14 Career Education Corporation - Educator of the Year Award – Academic Leadership (June 2014)
Recipient of the 2009 Colorado Technical University Faculty Excellence Award – Q3
Recipient of the 2005 Colorado Technical University Faculty Mentor of the Year Award
Recipient of the 2005 Colorado Technical University Faculty Service Award
Colorado Technical University Faculty Trainer – mentoring & coaching of new faculty (2005-2010)
Member Colorado Technical University Technology Committee (2005-2011)
Colorado Technical University Faculty Moderator of the Virtual Commons – Adult Learners Club & Student Support Community
3-Time Nominee for "Educator of the Year" 2009, 2012 & 2014 (recipient) Colorado Technical University
Colorado Technical University - Faculty representative (College of Business & Management) – Faculty Rank & Promotion Work Group (2015)