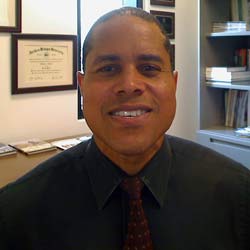 Part-time Faculty - Glenn R. Jones College of Business
Dr. Wicker has been teaching at numerous colleges and universities since 1999. Currently he is an Adjunct Professor at Trident University as well as a Tenured Associate Professor in the Bachelor of Applied Technology Program at Brazosport College. His area of expertise is business management.
Dr. Wicker has also been a textbook reviewer for topics such as Management Technology, Quality Management, and Strategic Management. Two of Dr. Wicker's books have been adopted by Braozsport College for use in its' management courses.
Dr. Wicker's educational background includes a Doctoral degree in business organization and management; a Master of Science degree in business administration; and a Bachelor of Science degree in business. His business experience includes 21 years working in the automotive industry for General Motors Corporation. During his career with General Motors, his experience included management assignments in accounting; auditing; finance; vehicle sales, service, & marketing; and service parts operations.
Successful people are not distracted by their success. They are focused on mastering a combination of several simple truths that – put together – create ongoing success. Dr. Don Wicker
Programs
Bachelor of Science in Business Administration
Master of Business Administration
Ph.D. in Business Administration
Publications
"Perception and Interpretation of Life" / Published by Author House 2015
"Happiness is a Moving Target" / Published by Author House 2014
"Why Is It Hard To Find A Job after 50" / Published by Author House 2013
"Success is for everyone" / Published by Author House 2012
"Job Satisfaction - Fact or Fiction" / Published by Author House 2011
"Attitude is # 1" / Published by AuthorHouse 2010
"Motivation" An interactive guide / Published by AuthorHouse 2009
"Goal Setting" Confidence + Goals = Success / Published by AuthorHouse 2008
Presentations
2008 Fall Semester Workshop at Brazosport College - Subject (Goal Setting - Confidence+Goals=Success)
2009 Spring Semester Workshop at Brazosport College - Subject (Motivation: Interactive)
Business Ethics - 2008
Goal Setting Process - 2007
Organizational Behavior - 2007
Education History
Doctorate in Business Organization and Management - Capella University (2005)
MS in Business Administration - Central Michigan University (1988)
BS in Business - Northern Michigan University (1984)
Associations
Former Member of American Society for Quality
Member of Association for Practical & Professional Ethics - National
Member of Organizational Behavior Teaching Society - National
Former Member of Advisory Board of Directors for American Intercontinental University in Houston Texas
Former Member of Hiring Committee at Brazosport College in Lake Jackson Texas
University of Phoenix School of Business Curriculum Council
University of Phoenix Faculty Research & Scholarship Awards Committee
Honors & Awards
Professor of the Month for September 2007 Brazosport College
Nominated for Teacher Excellence Award 2007 Brazosport College
Professor of the year 2007 for the Bachelor of Applied Technology program - Brazosport College
Nominated for Teacher Excellence Award 2008 Brazosport College
Professor of the year 2008 for the Bachelor of Applied Technology program - Brazosport College
Nominated for Teacher Excellence Award 2009 Brazosport College
Professor of the year 2009 for the Bachelor of Applied Technology program - Brazosport College
Nominated for Teacher Excellence Award 2010 Brazosport College
Professor of the year 2010 for the Bachelor of Applied Technology program - Brazosport College
Graduate Faculty Leadership Award 2010 - University of Phoenix
Faculty Research and Scholarship Award 2011 & 2012 & 2013 – University of Phoenix