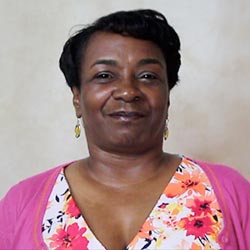 Part-time Faculty - College of Education
Trident Graduate | Class of 2012
Dr. Pamela A. Wilson has served as part-time faculty with Trident University International since 2009. She has helped students from their entry into the master's program to completion of their doctoral degrees. She retired in April 2017 from the United States Army after serving with distinction for 32 years. Her areas of expertise include course development, training, team building, leadership development, mentoring and personnel evaluations. She served as Instructor at all levels of the Army. She directed the Spouse Leadership Development Course, graduating over 300 senior-level spouses.
Dr. Wilson was the 1st Director of the Personnel Proponency Directorate for Training and Doctrine Command. Her efforts led to the development of the interactive Personnel Development Model (PDM – a tab on the Army Career Tracker) monitoring a Soldier career. She was the 1st Chaplain Sergeant Major for Installation Management Command (IMCOM) responsible for training and developing leaders on 77 Army Installations around the world. She started the first recognition program for Chaplain Assistants in Europe. In IMCOM, she developed recognition programs featured in newspapers, social media and in 33 monthly newsletters she created and edited featuring Chaplain Assistants, past and present. Her leadership positions include the President of the Junior Enlisted Council, squad leader and platoon sergeant.
Dr, Wilson's interests in research are behavior driven ideologies. She is concerned with self-efficacy, self-esteem, motivational behaviors that drive learning. She holds a Ph.D. in Educational Leadership (Trident University International); a Master in Public Administration (Troy State University); Bachelor of Science in Recreation, Chicago State University, and Associates of Arts in Physical Education, Kennedy-King Jr. College.
Testimonial
Dr. Wilson is an EXCELLENT professor! She inspired and supported us in reaching our academic potential by always coaching us to learn and understand applicable concepts but more importantly by facilitating our ability to bring those principles into our real-world vocation or dissertation focus. Dr. Wilson applied effective and innovative teaching practices, resulting in our engagement and achievement of learning goals by using a "co-op" type process. Her ability to vector students to each other and the content as to compete our goals whilst acting as a coach and a guide was impressive and put us in the situation to critically think, apply and evaluate. Dr. Wilson had a positive influence on us by sharing her expertise, providing constructive feedback and being our biggest cheerleader in the TAD process. Dr. Wilson is a superb candidate for the TEA! Ricky, EDD605, Win19
Programs
Master of Arts in Education
Doctor of Education (Ed.D.)
Ph.D. in Educational Leadership
Publications
Leadership and the Spouse: A Guide to Mentoring
The relationship between self-efficacy, self-esteem and locus of control with performance of seior noncommissioned officers (NCOs) in the Army: The Noncommissioned Officer Evaluation Report commonly referred to, as the NCOER
The Fifty-Six Mike NCOIC Guide: It is necessary to prepare our NCOIC for duty at multiple locations.
The Objective Force Chaplain Assistant: To achieve our greatest potential, we must intentionally plan for the future now.
Areas of Expertise
Dr. Wilson's areas of expertise include:
Health
Physical Education
Public Administration
Leadership
Military Status
Status: Retired
Branch: Army
Rank: Sergeant Major
Accolades: Legion of Merit, Bronze Star Medal; the Defense Meritorious Service Medal, the Meritorious Service Medal (4-OLC), the Army Commendation Medal (2-OLC), the Joint Service Achievement Medal, Army Achievement Medal (2-OLC), the Good Conduct Medal (7th Award), the National Defense Service Medal, the Iraqi Campaign Medal, the Global War on Terror Service Medal, the Armed Forces Service Medal, the NCO Professional Development Ribbon (No. 4), the Army Service Ribbon (8th Award) , the Military Outstanding Volunteer Service Medal, the Southwest Asia Service Medal, the Overseas Service Ribbon (5th Award), the NATO Medal, Joint Meritorious Unit Award (1) and the coveted Military History Award.
Education History
Ph.D. in Educational Leadership - Trident University International (2012)
MS in Public Administration - Troy State University (1988)
BS Health, Physical Education and Recreation - Chicago State University (1982)
AA in Physical Education, Kennedy-King Jr. College (1976)
Dr. Wilson's military education includes the United States Army Sergeants Major Academy, Class 52; the Senior Leader Course, the Advanced Leaders Course and the Warrior Leader Course. She attended the following courses: Instructor Trainers', Funds Manager, Middle Managers, Organization and Documentation, Army Force Management, Army Basic Instructor Course, Small Group Instructor Training and Faculty Development Course, Phase I and II.
Honors & Awards
Trident Teaching Excellence Award