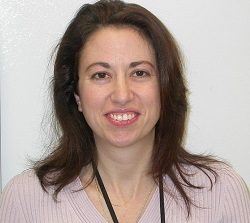 Department Chair - University College
Dr. Pamela Wirth has been the Science Department Chair for University College since 2016. Prior to joining Trident University, Dr. Wirth enjoyed a diversified career that included teaching (both on-ground and online), scientific research, and working in the corporate sector. She has been specializing in the education of adult learners for over fourteen years. Her professional background consists of academic and leadership roles in pathological research and clinical diagnostics as a scientist, teacher and mentor. She holds a PhD in Health Sciences with a concentration in Clinical Laboratory Sciences from Virginia Commonwealth University. She holds additional graduate credentials in Instructional Design from the University of Wisconsin Stout. She enjoys investigating ways technology can be used to enhance critical thinking, collaboration, and real-world applications. Her distance learning practices stem from a belief that effective teaching comes from a combination of sound instructional design, the application of best practices and the effective use of technology. Her interests include the application of distance learning technologies, clinical and science course development, student motivation and engagement techniques
Favorite Quote
There are no constraints on the human mind, no walls around the human spirit, no barriers to our progress except those we ourselves erect. Ronald Reagan, State of the Union address, Feb. 6, 1985
Publications
Wirth, P. (2015). From Dull to Dynamic: How to Engage Learners in an Online Science Course
Wirth, P. (2015). 5 Ways to Enhance Your Online Science Course Using Interactive Whiteboards
Wirth, P. (2015). Online Collaboration: Should You Be Targeting Your Online Faculty Instead of Competing for Online Students?
Gilbert J, Murphy B, Dietrich MS, Henry E, Jordan R, Counsell A, Wirth P, Yarbrough WG, Slebos RJ, Chung CH (2012). Phase 2 trial of oxaliplatin and pemetrexed as an induction regimen in locally advanced head and neck cancer. Cancer, 118 (4): 1007-1013.
Wirth, P. (2010). The prognostic potential of the Epidermal Growth Factor Receptor and Nuclear Factor Kappa B pathways and associated therapeutic strategies in patients with squamous cell carcinoma of the head and neck, 2010. 664015002.
Law JH, Whigham AS, Wirth PS, Liu D, Pham MQ, Vadivelu S, Kirkbride KC, Brown BT, Burkey BB, Sinard RJ, Netterville JL, Yarbrough WG (2009). Human-in-mouse modeling of primary head and neck squamous cell carcinoma. Laryngoscope, 119(12):2315-23.
Baumann JL, Cohen S, Evjen AN, Law JH, Vadivelu S, Attia A, Schindler JS, Chung CH, Wirth PS, Meijer CJ, Snijders PJ, Yarbrough WG, Slebos RJ. (2009). Human papillomavirus in early laryngeal carcinoma. Laryngoscope, 119 (8), 1531-1537.
Chaurand P, Latham J, Lane K, Mobley J, Polosukhin, V, Wirth P, Nanney L & Caprioli R. (2008). Imaging Mass Spectrometry of Intact Proteins from Alcohol Preserved Tissue Specimens: Bypassing Formalin Fixation. Journal of Proteome Research, 7 (8), 3543-3555.
Comparison of Staining Characteristics of Apoptotic Markers. (2005).Journal of Histotechnology. Pamela Wirth and Sandra Olson. Journal of Histotechnology. 28 (1), 29-31.
Areas of Expertise
Dr. Wirth's areas of expertise include:
Distance Learning
Adult Education
Course Development
Science and Health-Related Instruction
Clinical Diagnostics
Pathology
Cancer Biology
Education History
Ph.D. in Clinical Laboratory Sciences - Virginia Commonwealth University (2010)
M.S. in Biology - Northeastern Illinois University (1999)
B.S. in Biology
Graduate Certificate Instructional Design
Certified Peer Reviewer Quality Matters