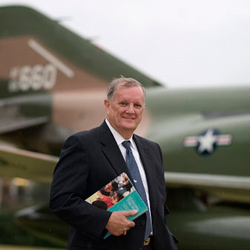 Part-time Faculty - Glenn R. Jones College of Business
Dr. Young has served as a Vice President, managing a worldwide program offering graduate and undergraduate degrees. He has managed an educational system involving over 400 faculty and staff, a multi-million dollar budget, and over 9,000 students. Previously, he served in the federal government, accumulated over 22 years experience in ever increasing levels of management, pursued 4 graduate degrees, was assigned 4 years as a faculty member at the prestigious Air War College, and taught over 40 years as a part-time college instructor in all areas of education, management, and economics. Dr. Young has developed specific skills and taught federal planning, programming, and budgeting systems.
I love to teach at the college level. I earned my MBA in 1967 and immediately began my classroom teaching experience. I was a young Air Force Captain serving in the Viet Nam War, and in the evening I taught classes for the University of Maryland. What I discovered in a very short period of time is I loved to teach and to help others develop, it was a professional high that I never felt in my adult career. I knew immediately I wanted to make that my life time career. I continued to grow personally with 4 graduate degrees in various areas, to include my doctoral degree. I developed my teaching skills at the same time, continuing to work as an adjunct college instructor. I believe that TUI has been an extension of my professional development because of their dedication to our students and I am proud to be able to serve as one of their faculty members. Dr. James D. Young
Programs
Bachelor of Science in Business Administration
Bachelor of Science in Human Resource Management
General Education
Publications
Authored, "Use of a Mentor," Concepts for Air Force Leadership, Air University, Maxwell Air Force Base, Alabama, 1990--2002
Presented paper, "Managing Education Programs at a Distance," National Convention, American Association of Colleges for Teacher Education,
Presented paper, "Quality Off-Campus Programs for the Military," at the Quality Campus Credit Programs Conference, Kansas State program, Washington, D. C.
Associations
Society of Human Resource Managers
Military Status
Status: Veteran
Branch: U.S. Air Force
Rank: Colonel (ret)
Years: 22
Accolades:

Legion of Merit
Meritorious Service Medal (4 times)
Air Force Commendation Medal (twice)
Small Arms Expert Marksmanship Ribbon
Armed Forces Reserve Medal
Air Force Longevity Service Ribbon (5 times)
National Defense Service Medal
Vietnam Service Medal (3 times)
Air Force Presidential Unit Citation
Air Force Outstanding Unit Award (4 times)
Republic of Vietnam Gallantry Cross (twice)
Republic of Vietnam Campaign Medal
Air Force Overseas Long Tour Service Ribbon
Professional History
VP of State University for 16 years
Colonel in U.S. Air Force--primarily in the HR field
Areas of Expertise
Dr. Young's areas of expertise include:
Organizational Development
Organizational Behavior
Labor Relations
Management Theory
Educational Research
Compensation/Finance
Human Resource Management/Planning
Statistics
Education History
Doctoral degree - Auburn University
MBA-U of Maine
MS-Wichita State University
B.S. in Bus. Admin - Ohio State University
Ed.S - Troy State University