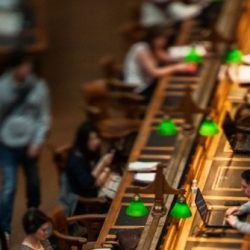 Many people dream of earning a doctoral degree, but the number of those who accomplish this is small. The path to graduation is challenging - just 4% of adults in the U.S. hold a doctoral degree.
To succeed at this level, you don't just have to be smart, driven, and determined, you need to be ready for everything life throws at you. By avoiding these stumbling blocks, you can be among the group that is proudly called "doctor" and earn your walk across the stage at graduation.
Losing focus on the goal: You only have one goal after you're enrolled in a doctoral program - and that's graduation. Just completing some doctoral level classes isn't enough. Graduating with a degree, and the skills and benefits earned, is the goal of the serious doctoral student.
Not properly managing your time: If you're like most Trident students, you're also balancing a career, family, and much more. If you fail to manage the time it will take to complete your readings, study, and write papers, you will quickly fall behind in your program.
Disorganized study habits: As a doctoral student you will be expected to do a large amount of your course and dissertation work independently. To minimize distractions and optimize opportunities, you will need a laser sharp focus when it comes to studying and meeting deadlines. Most importantly, as a student you need to devote time to learning the material. This involves more than just reading - it involves time to process information and practice new concepts.
If you can put in the time and effort, and are willing to learn from humbling moments, then a doctoral degree could very well be within your reach.
Jeffery Davis is a Doctoral Specialist in Triden's Admissions department. He is a current student in the Doctor of Education (Ed.D.) program.