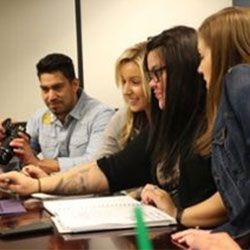 The path to successfully completing a doctoral degree is long, filled with many challenges to overcome. While times may sometimes be tough, preparation and determination are key, especially when it comes to your approach to the dissertation.
Here are some of the most common dissertation pitfalls, along with some tips to help you avoid them:
Identify area of research interests early:
The earlier you identify your area of research interests, the better prepared you will be going into your program's dissertation phase. It's not often that students have trouble finding an area to research, it's quite the opposite - many students have curious minds, which leads to having a broad list of interests. Don't try to save the world with your first research study - find a specific issue and focus on that.
Assess peer-reviewed literature in your field of expertise:
Those who hold a doctorate degree are considered experts in their respective fields, and a component of building that expertise is familiarizing yourself with the scholarly research in your topic area. Not only do you "learn the language" of your field of expertise, but you gain an understanding of the research process by assessing the published work of others. Don't forget to keep detailed notes - these will make your life a lot easier later in the dissertation process.
Learn APA Style:
This style is integral to academic articles and peer-reviewed research, and most importantly, your dissertation. According to apastyle.org, this style "consists of rules or guidelines that a publisher observes to ensure clear and consistent presentation of written material." Do yourself a favor and pick up a copy of the Publication Manual of the American Psychological Association (Sixth Edition) at the onset of your doctoral program.
Conquer your fears and weaknesses:
All candidates entering a doctoral program are intelligent and accomplished, but each also comes with his or her own set of fears and weaknesses. Some people find quantitative research daunting, while others are not strong writers. You should not allow your fears and weaknesses to derail you from your goal. Rather, you should view these challenges as opportunities for improvement, by leveraging your peer and faculty network, as well as your own critical thinking skills, in order to synthesize the best possible solution.
If you'd like to learn more, watch our archived CORE webinar, "Dissertation Pitfalls," presented by Dr. Frank Gomez and Dr. Carlos Cardillo.
Dr. Frank Gomez is currently Professor of Health Sciences in the College of Health & Human Services at Trident. He earned his Dr.PH and MPH at UCLA's School of Public Health in Environmental Health. He worked with the Department of Health Services, Public Health Programs, County of Los Angeles, for 29 years. He has also served as Program Director for the Ph.D. in Health Sciences program at Trident, as well as a lecturer in public health and health sciences at UCLA's School of Public Health, CSULA, and CSUDH before assuming his current position.
Dr. Carlos Cardillo is a faculty member and Ph.D. mentor at Trident. He is an experienced professional attuned to the ever-changing needs of organizations who utilizes a unique blend of business acumen, scientific research, project management, and state-of-the-art technology development. He has over 25 years of experience working in projects requiring the ability to identify areas needing vision and projection in the health science arena, including scientific, clinical, neurophysiological, and human factor research design, implementation, administration, and finances. He has professional experience in military, academic, and private institutions.