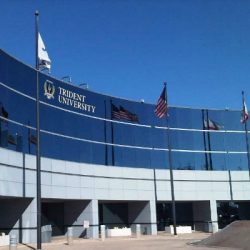 Trident's staff and faculty are focused on the success of all our bachelor's, master's, doctoral, and certificate students.  If you're a new student – or are considering enrollment –  these are some of the key resources available to maximize your educational experience so you can prepare yourself for a rewarding career.
Center for Student Success
The CFSS focuses on program completion and graduation for all of our students. Our Student Success Advisors (SSA) are all about fostering individualized relationships with each student. The SSA is here to support you in every step of your path towards graduation.
Trident Military Assistance Center
The TMAC mission is to support the post-secondary education achievement of military veterans and those military-affiliated student populations through mentorship and professional development. Our military students have and continue to serve us, and we want to serve them!
Center for Career Planning & Workforce Strategies
CCWS gives you the C.O.D.E. for career success:


Connections to potential employers, alumni, and networking groups.
Opportunities for students through scholarships, internships, certifications, and volunteering.
Development of your career search guided by our career advisors.
Education in the form of workshops and presentations on job search and career development.

Academic Support
Trident has an accomplished faculty that is focused on student success. They strive to maximize your transfer credit. Their academic programs include student success courses so you have a clear path to graduation. They are compassionate and understanding and are here to do what it takes for you to progress towards graduation!
Find out more about these Trident resources in our archived webinar "What You May Not Know About Trident." Each of these four departments and the services they offer are discussed in depth by key staff and faculty members.
Learn more about Trident's degree programs.