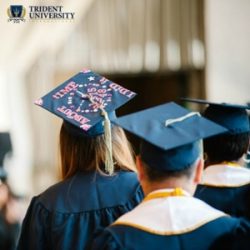 The famous, "if you build it, they will come" mindset is a maxim of the past. With technological advancements comes infinite potential for achievement and access to information without ever leaving the confines of your home.
Many organizations have found ways to integrate their services with the internet, namely online universities. Unfortunately, many individuals don't recognize the benefits of an online education because they are thrown off course by these four misconceptions.
Misconception:
"I won't build quality networks or relationships with students and professors."
Truth:
You may have to be more creative about networking or more adamant about establishing relationships. Further, it pushes teachers and professors to be more resourceful in their methods to maintain student engagement and communicate effectively. This is an environment that rewards self-starters, a hallmark trait of military and veteran students.
Misconception:
"I'm too old to go back to school."
Truth:
Thomas Jefferson believed in the potential for infinite learning, that "the Hobby of my old age, will be based on the illimitable freedom of the human mind." Online universities tend toward an older demographic whose student body is comprised of current and former military members, professionals who have many years of experience in the working world, or even parents, while offering them affordable and convenient options without taking them away from their established life.
Additionally, 2015 Trident Master's graduate Roberta Kablach received her degree at 88 years of age.
Misconception:
"Online degrees are less credible than brick-and-mortar institutions."
Truth:
Online institutions must go through rigorous certification and accreditation processes in order to meet academic standards and be authorized to award degrees to students.  Trident is regionally accredited by WASC, the same body that accredits USC, Stanford, Pepperdine, and many others.
Misconception:
"Online universities lack adequate resources."
Truth:
You don't need a library card to check out a book anymore. Technology has enabled resources that are extensive, accessible, and easily shareable using tools such as online databases and eBooks to find almost anything. Trident's online library is accessible for 24/7 and filled with materials indispensable to your education. Additionally, all students and alumni have access to research database IBISWorld.
Numbers talk. There are "three million students currently enrolled in fully online degree programs and six million taking at least one online course as part of their degree program."[1] Clearly, online universities are not just an alternative; they are a highly favorable one. Online education is a flexible and affordable solution for a wider student demographic and an authentic academic experience.