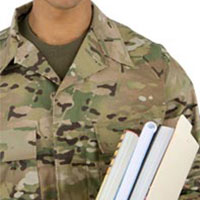 Why This Robust New Tool Will Simplify Your School Search
Making decisions about your education can be overwhelming. If you're just beginning to look into schools, then be sure to read on. TA DECIDE will dramatically simplify the process for you.
Here are just a few reasons aspiring students with a military background should be excited about the release of TA DECIDE:
1. It's military-specific.
TA DECIDE was developed specifically for military veterans and active-duty service members. Unlike the GI Bill® (GI Bill is a registered trademark of the U.S. Department of Veterans Affairs) Comparison Tool, which includes information on more than 33,000 academic institutions, TA DECIDE includes only those schools that agree to the DoD's terms and honor military education benefits. Rather than waste time sifting through information about schools that don't meet your needs, you can focus on the more than 2,600 institutions that do. If you do the math, one could say that TA DECIDE reduces the overwhelming college decision for military students by approximately 92%.
2. It's powerful.
TA DECIDE lets students access a huge amount of information that would otherwise be very time-consuming to collect. Once you've reduced your school options to a short list, TA DECIDE allows you to compare 2-3 schools at a time to determine which institutions are the best match for your needs and desires. For instance, students can compare schools based on cost, location, degrees offered, course completion rates, graduation rates, the amount tuition assistance is likely to pay per course, benefits eligibility, room and board, supply fees, learning methods, accreditation, complaints against institutions, and many other characteristics. All of this information is displayed in an easy-to-compare chart format.
3. It's reliable.
Let's face it: some search tools are better-suited. TA DECIDE is tailored to address the unique needs of service members because it incorporates extremely trustworthy data from more than 10 dependable sources throughout the departments of Veterans Affairs, Education, and Defense. TA DECIDE is also a good tool that veterans can use to compare schools.
4. It's easily accessible.
TA DECIDE is free to access online from the comfort of your home. Just visit the DoD Memorandum of Understanding website and click TA DECIDE in the upper left portion of the page. (The Memorandum of Understanding or MOU refers to an agreement signed by participating schools that agree to adhere to certain standards of excellence outlined by the DoD.)
5. It can help you identify schools that understand military service members.
When deciding where to pursue your education, it is so important that you select a military-friendly college. Doing so will save you money and hassle and will also ensure instructors understand your unique situation as an active-duty service member, National Guardsman or Reservist. Choosing a school with a high percentage of military graduates like Trident University also grants you access to a wide network of alumni connections that may help you succeed in your future aspirations.
If you've considered going to college, but aren't sure where you should apply, using TA DECIDE will most likely be very illuminating for you.
Each year, 300,000 service members head off to, or log into, school using military tuition assistance. With TA DECIDE to simplify the process and jumpstart your choices, next year, you could be one of those students.
About Trident University
Founded in 1998, Trident University International (Trident) is a leading online post-secondary university serving adult learners. Trident developed the Trident Learning Model, which employs case-based learning in an online setting to teach real-world relevant critical thinking skills to enhance student's lives and careers. Trident offers high-quality bachelors, masters, and doctoral degree programs, led by a qualified faculty team, over 80% of whom have doctoral degrees. Visit www.trident.edu, Trident's Facebook page, or call at 800-579-3197 to learn more about Trident's wide range of program offerings.