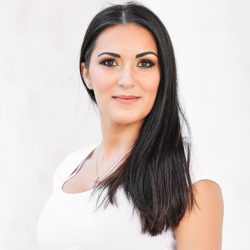 For the first 25 years of her life, Stephanie Melo had very little exposure to a work environment. Her family emigrated to a remote part of Canada, an area where career opportunities were limited - especially for women. It was a classic immigrant story - financial struggles, economic and social obstacles, and a language barrier.
Stephanie's desire to pursue higher education was ignited after she met her husband. She is a military spouse and although moving around presented her with career difficulties, she was able to secure an administrative assistant position and two years later was promoted to an office manager. Of the many duties assigned to her in this new role, it was in her capacity as a human resources representative were she truly shined. Not only did she enjoy the work - but when leveraged her interpersonal skills to build trust across the organization.
I am the first person in my very large family to pursue a bachelors degree and have the desire to enter a professional career field.

Stephanie Melo
After much research, Stephanie chose Trident because her husband earned an MBA here. "Earning my Bachelor of Science in Human Resource Management will allow me to take advantage of opportunity to further do what I am passionate about by helping people improve their lives through sustainable employment."/p>
Trident is proud to present Stephanie Melo with the Veterans and Family Scholarship! With this opportunity, she is much closer to achieving her dreams as a human resource management leader.
Trident: What drives your interest in human resource management?
Stephanie Melo: When I moved to Virginia in 2014, I had a good contracting job for the government, and I was an admin there. My boss gave me the opportunity with my background and experience, even though I didn't have a degree he knew I would suit the company and they would benefit from it. Two years after that I became an office manager and with that position there was no human resources for the capital in our district, therefore I did a lot of the tasks for HR. I really enjoyed it and a lot of the employees would come to me for problem-solving, they trusted me, and we had a good connection.
Trident: What professional and educational advice would you offer to other military spouses?
SM: I would advise to make time for themselves to look into what they want to do and what they feel they have an interest in. I would tell them to never give up on their dreams and it's never too late to obtain your degree. Everything will come together when the time is right. Pursue what you want to do and do not give up on yourself.
Trident: You've stated that you want to use your degree to help people and help your community. What are some ways that you think you can do that?
SM: The type of person I am, I am very motivating and that is just how I am before this degree. People really do come to me for motivation and inspiration. I like helping others, I know with the skills and knowledge of this degree, I can help military spouses and other people thrive, encourage them to be better employees, and work together as a team.