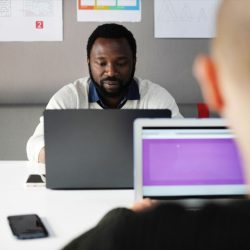 Are you interested in strengthening your quantitative analysis skills? If so, then our online certificate in Business Analytics may be the right fit for you. While teaching key analytical and critical skills necessary for success in today's business world, our Business Analytics Certificate is an excellent add-on to the skills of any growing professional.
What is the Business Analytics Certificate?
This online certificate program will help students hone quantitative, technical, and statistical skills and techniques. Learning through the lens of a modern corporate environment, your work will be focused on the mastery and application of course concepts in the real world.
What Does a Business Analyst Do?
Someone holding a business analytics certificate has the ability to work in a wide variety of industries. A statistical analyst is just one example, and it's a role dynamic enough to not be restricted to any one specific field. Statistical analysts use their knowledge of business analytics to collect and compute data used by organizations, such as charts and graphs used in reports, studies, and presentations.
Source: https://www.bls.gov/oes/current/oes439111.htm#ind
What Skills are Required of a Business Analyst?
In addition to already holding a degree such as an MBA, MSITM, BSITM, or BSBA, a business analyst professional should have the following characteristics:
Critical Thinking Skills
If you're pursuing a career working with big data, you should have excellent critical thinking skills. Since important business decisions often rely on large amounts of data, you'll be expected to help make sense of the stories told by the numbers - stories that are not always obvious or linear.
Communication Ability
You may understand what trends the data is suggesting, but can you explain that to key decision-makers at the organization, even those who are not so comfortable with numbers? For an analysis to make the most impact, it may need to be framed differently for multiple audiences.
Attention to Detail
Talented analysts are more than number-crunchers - they have the ability to notice patterns and avoid making silly errors, even when reviewing thousands of cells in a spreadsheet. A business analyst with attention to detail can avoid critical mistakes upfront, which will help to build trust in the final results and analysis.
What is the Salary of a Business Analyst?
A business analyst may find employment in a variety of roles with various salary ranges. Examples of business analyst roles are a Statistical Analyst, an Operations Research Analyst, or a Business Systems Analyst which research shows earns a median annual wage of about $49,090.
Source: https://www.bls.gov/oes/current/oes439111.htm#ind
What Courses Would I Take to be a Business Analyst?
To obtain the Certificate in Business Analytics, you will be expected to complete 15 semester credit hours. Transfer credits are not accepted for this certificate program. The core courses required for this certificate include Data Management, Statistical Analysis for Managers, Data Mining, Enterprise Data Warehousing and Business Intelligence, and a Capstone in Business Analytics.
In addition to the above courses, students will gain exposure to business analytic tools such as SAS Visual Analytics, SAS Enterprise Miner, and SAS Studio.
Enrolled students will also be exposed to aspects of the following SAS certificate programs:
SAS® Certified Base Programmer for SAS®9
SAS® Certified Visual Business Analyst
SAS® Certified Predictive Modeler Using Enterprise Miner™ 13
Are Scholarships or Financial Aid Offered?
Students seeking to learn more about the financial aid offered should consult Trident University's Financial Aid page. This is where you can learn more about the opportunities available and the eligibility requirements.
Am I Eligible to take the Business Analytics Certificate Program?
As this is a graduate level program, prospective students are eligible for this certificate program if they hold a bachelor's degree from a regionally or nationally accredited university or college. Students must also have at least one year of work experience in one of the following fields: science, engineering, or an area of business, such as operations, IT, human resource management, finance, or marketing.
If you would like to learn more about the many opportunities at Trident University, you can visit our website at www.trident.edu, Trident's Facebook page, or call at 800-579-3197. Our admission staff is ready to provide assistance and answer any questions you may have.