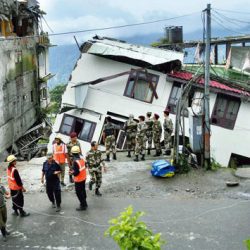 Considering entering the disaster management or homeland security field, but not sure of how to go about it?
The first step is to review the job requirements, required experience, and degree requirements for a disaster manager position. According to the Occupational Outlook Handbook, employment for disaster managers is projected to grow 6% from 2014 to 2024. Current median salary is close to $65,000 with bachelor's degree being the entry-level degree. Of note to those retired military or those anticipating retirement, military experience is a desirable background for some employers.
The second step is to examine sample job availabilities. "The Department of Homeland Security's Federal Emergency Management Agency (FEMA) and the Corporation for National and Community Service (CNCS) have launched an innovative partnership to establish a FEMA-devoted unit of 1,600 service corps members within AmeriCorps National Civilian Community Corps (NCCC) solely devoted to disaster preparedness, response, and recovery."
This is known as FEMA Corps. Check out the section on AmeriCorps and Veterans.
Look up "Emergency Management" as well as "Homeland Security" in USA Jobs: https://www.usajobs.gov/. Also, consult your local and state levels for typical employment opportunities in disaster management field. Good resources for job reviews and for networking are, for example, the:
International Association of Emergency Managers (IAEM) - https://www.iaem.com/
Disaster Recovery International - https://www.drii.org/
The third—and most important step—is to find out the options available to further your career in disaster management and homeland security. At Trident, the College of Health and Human Services offers a series of Emergency and Disaster programs both at the bachelors and masters level. Concentrations available include Cyber security and Leadership.
Dr. Rudolph Bustos is the Faculty Lead for the MS in Emergency and Disaster Management, MS in Homeland Security, and BS in Homeland Security Programs, College of Health and Human Services, Trident University. He has 47 years cross-field experience including: (a) psychological, (b) educational, (c) social work, and (d) emergency and disaster management.