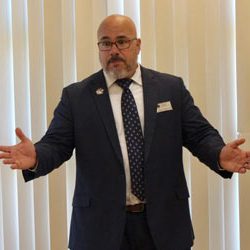 Career fairs provide great opportunities for you to meet potential employers and to network with others. You can gain access to gatekeepers that can open doors to a new career or a new job for you.
Remember, there will be many, many other job seekers competing for the same jobs at a career fair, so be sure you stand out from the crowd. Here are some tips on how:
Dress for success - Professional interview attire is a must. For both men and women, a dark-colored suit is best. Shoes should be clean and polished, and no open toes. Minimize your jewelry, and a neat, clean-cut hairstyle is the finishing touch.
Carry a portfolio - A dark-colored, leather cover is best for holding copies of your resume, business cards, a note pad, and a pen or two.
Have your "elevator speech" ready to go - This is a 30-60 second speech describing who you are, what you do or have done, and how your experience may benefit the potential employer. See my blog Five Components of the Perfect Elevator Speech for details on what to include in your speech.
Research the participating companies - As in an interview, you always want to know something about the company at which you are interviewing. The career fair website should have some info, but do further research on each company's website and their representatives on LinkedIn.
Attend workshops and/or seminars - These are oftentimes part of a career fair and attendance is free. These are additional opportunities for getting job search advice and for networking.
Additionally, before deciding to attend a career fair, be sure the participating companies and/or available positions are relevant to what you are looking for. This information can be found on the career fair website.
Gain more insight into career development by visiting Trident's Center for Career Planning and Workforce Strategies.
View the entire How to Get the Most Out of Career Fairs webinar.