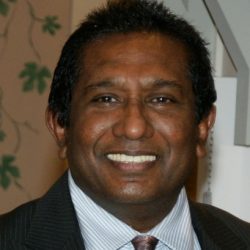 "Life kept me so busy so I didn't have time to look back. Then one day earlier this summer my dissertation committee - Dr. Frank Gomez, Dr. Bernice B. Rumala, and Dr. Welford Roberts started calling me Dr. Fernando. I had just completed my doctorate at Trident," remarked the newly minted Ph.D., Dr. Wickramarachchige Sugath Rohitha Fernando.
Dr. Fernando's beginnings were humble. He came from a small village in Sri Lanka, growing up on a tea plantation. Each day would begin with walking several miles to school, and although this journey may have been difficult, it helped to build perseverance and focus.
Years later he would complete a professional hospitality diploma in England and a management diploma in Sri Lanka. Reflecting over his academic journey, Dr. Fernando describes his time in Trident's Ph.D. in Health Sciences program as his best experience, saying simply, "it was the making of me."
Living in Canada, Dr. Fernando is a healthcare services support manager. Even with a family and a full-time job, he was able to complete his Ph.D. degree in just four years.
"Trident delivers a bundle of conveniences for an adult student returning to school," Dr. Fernando said. "I live in a remote northern part of Canada with long winters where internet connection is an expensive commodity. Trident accommodated all of that for me. My supervisors at the University were the best I have ever had; there was always a personal touch. They were supportive and within reach when help was needed."
For his dissertation, Dr. Fernando researched links between hand sanitation practices and acculturative stress among Sinhala Sri Lankan immigrants in Australia, Canada, and the United States.
"In workplaces that had a high emphasis on hand sanitization, I began to research how that applies to South East Asian immigrants who use their hand for post-defecation cleansing with water," said Dr. Fernando. "Through my dissertation I was able to link anal washing practices to acculturative stress, which I will be able to gradually expand that towards domestic food safety in years to come."