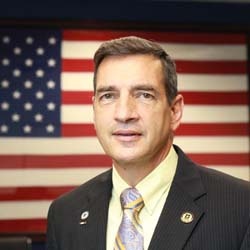 While I was on my third tour in Iraq, serving as the 1st Cavalry Division Command Sergeant Major (CSM) and the Multi National Division - Baghdad Senior Enlisted Advisor to the Commanding General during the Iraq surge, I was involved in some of the toughest fighting in the war. There were 110,000 coalition soldiers, which at the time was the largest formation under one division colors.
We experienced tremendous losses every day. For about six months, I attended a memorial for a fallen hero almost every night - many were men and women I considered friends. I spent a lot of time in my trailer feeling the loss, sometimes allowing my own thoughts to get the best of me.
As a leader I had to set an example, and personally, I needed a way to decompress so I could get through these very difficult times in a positive way. Everyone handles post-traumatic stress (PTS) in different ways, and the way I learned to cope was through physical fitness.
From my earliest days in the Army, physical fitness had always been an important part of my life - it is part of being a soldier. During my first deployment in 2003 it wasn't possible to stay fit in the same way I had in the past. I was patrolling the streets of Baghdad every day under bright, unwavering sunlight. It was demanding work in brutal heat.
Physical fitness helped to mitigate my PTS.
It started out simple. I did Iron Mikes as well as some running around the Forward Operating Base. I started doing push-ups, sit-ups, and pull-ups from trees so I could have some physical activity before I went on patrol. Staying active allowed me to be more mentally and physically focused, and helped to relieve the stress involved with being in a combat zone and dealing with loss on a daily basis.
I retired from the Army in 2011, and now work as National Director of Military and Veteran Alliances at Trident. In this role, I am often on the road, but physical fitness remains a top priority for me. When booking a hotel, I make sure there is exercise equipment available and that I arrive early enough to get in a one-hour workout.
At home, I have turned half of my garage into a gym, which gives my wife and I an opportunity to work out together. And on the weekends we find enough yardwork to keep active. I have found that when you take care of yourself physically, it has positive effects on other parts of your life. While these may seem like little things, they have all made a positive impact on my PTS.
Philip F. Johndrow is a 33-year veteran of the United States Army, retiring as the Command Sergeant Major for the U.S. Army Combined Arms Center, Fort Leavenworth. In this capacity Johndrow also served as the Command Sergeant Major for the U.S. Army Command and General Staff College and the Senior Enlisted Advisor for the Joint Center for International Security Force Assistance. Johndrow was inducted into the The United States Army Sergeants Major Academy's Hall of Honor on August 28th, 2015.