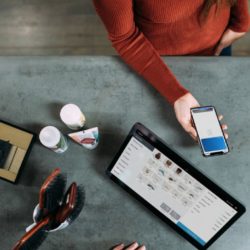 1. What can new students in the Computerized Accounting program expect?
It all depends on which concentration they choose. There is a Taxation and a Bookkeeping and Payroll concentration. Both concentrations cover QuickBooks and Sage 50 Accounting software.
The Taxation concentration focuses on tax preparation and accounting procedures. Students learn a variety of concepts, including individual tax preparation, self-employment, retirement plans, and depreciation. Successful students will demonstrate an understanding of individual tax preparation, business entities, tax preparer information, PTIN, CTEC code of conduct, EITC due diligence, and amended returns.
The Bookkeeping and Payroll concentration focuses on Microsoft Office. Students will complete and master various tasks using Excel, PowerPoint, and Word. This program seeks to provide an understanding of the skills and knowledge related to the management of a payroll system.
2. What are some ways in which completing this program could benefit one's career?
With both concentrations, students will be able to apply what they've learned in the online classroom to their current or future jobs. These programs are also stackable into Trident's Associate of Science in Professional Studies (ASPS).
3. Could you tell me about your background and how you got your start in this field?
I obtained my MBA from DeVry University's Keller Graduate School of Management. After I graduated I worked in various CPA and business management firms throughout the Los Angeles area.
I was offered the opportunity to become a course planner and developer for ICDC College in 2010. After writing several courses, I became an online instructor, and then stepped into the role of Business Management Department Chair and Program Director. When ICDC College closed in May of 2016, I came over to Trident to assist with the teach-out. I then became the Program Coordinator of the Computerized Accounting Certificate and Diploma program in April of 2018.
4. What do you enjoy most about working with students at Trident?
I love to teach and pass on the knowledge that I have learned from working both in the professional and education sectors. Our students at Trident are so eager to learn, and I am happy to help them in any way that I can!
5. Generally speaking, what is the professional background of students coming into this program?
Students can be recent high school graduates or adults who have been out of school looking to get into another career field.
6. For students who have completed this program and are interested in furthering their education, what would their next step be?
As I stated above, students can move right into the ASPS program and continue on from there. The sky is the limit.