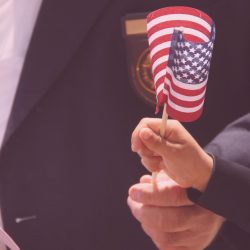 After 21 years of service in the Army, I became a veteran in 1997. I chose to dedicate the next chapter of my life to service as well, teaching leadership to high school students. So, I wore my uniform for an additional eight years, motivating and educating these young men and women to be better citizens.
Being in the military for so many years made me a better person and I'm proud to have served, and that makes me want to help others. The opportunities given to me have allowed me to advise others and help them navigate life better. When I became a faculty member at a high school, many respected me because of my background, but I was also able to become close to many of my students through mentoring.
Many of these students were interested in military service, so I encouraged them. I also made them aware of the realities, making sure they knew that being in the military is not for everyone, and that they should concentrate on their education first. After high school, if the desire and maturity were there, then they would be in the right mindset to serve.
I also spent time counseling many parents, since many of them had trouble understanding their children. Being in a predominantly working class, Hispanic neighborhood, the school had a communal atmosphere that created a sense of family. My perspective as a veteran was vital in building rapport and trust between children and their parents.
I later moved on to roles in higher education, continuing to use my experiences as a veteran to build bridges between communities and help people to build better lives for themselves. I listen to people, try to understand where they're coming from and what they going after, and in turn they understand and trust me.
My life experiences in the military have been an asset and, when I transitioned to becoming a veteran, trust me, I was very scared. Since the military has done so much for me, I try to continually give back by supporting veterans and active duty men and women through organizations like my local American Legion.
Another blessing has been the opportunity to remain close to the military while working at Trident. To have served in their shoes and now, as a veteran, to be able to support them is a great feeling.