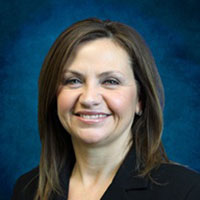 Deena Mullins, Regional Manager of Strategic Military and Community Relations for Trident, covers the South Central region of the United States. Residing in San Antonio, her home area includes the states of Texas, Louisiana, Arkansas, Oklahoma, Colorado, and New Mexico.
In her spare time, she is also involved in a local women's veteran group, serves on the Student Health Advisory council for Northeast ISD as part of the Nutrition committee, and serves as a volunteer for various activities at her daughter's school.
She is a veteran of the United States Army, both Active and Reserves, retiring as a Master Sergeant after 25 years of service in 2013. Positions she held while serving include Reserve Recruiter, Health Professionals Recruiter, Retention NCO, Trainer, District Operations, and Senior Reserve Component Career Counselor.
When asked what her most fulfilling experience was while in the Army, Mullins said "Helping my soldiers get promoted, as well as completing any mission we were assigned."
Mullins was able to leverage the educational opportunities presented to her, as she completed two degrees while on active duty. She earned a Bachelor of Science in Human Resources from Park University in Parkville, MO and a Master of Business Administration from Trident. Despite being faced with a number of challenges while attending school, including working a full-time job that required travel and being a single parent of two children, she saw both degrees through to completion.
Through the completion of these degrees, her career has seen a boost. She earned promotions while in the Army, set herself up for a successful transition into the civilian world, and has served as a substitute teacher at the school her children attend.
Her daily life as Regional Manager of Strategic Military and Community Relations keeps her busy, with a lot of networking, gathering new ideas, and helping Trident students every day.
Although she has retired from the Army, she continues to serve the military population. Through briefings she gives to soldiers, she is able to stress the importance of education and answer any questions they have about the impact of education on their lives and careers. This is an aspect of her job that she enjoys quite a lot – and it's one that often allows her to have a big impact on others.
Additionally, she serves as the President of the Council on Military Education in the South (COMETS). This organization works to promote and support quality education programs for military personnel, their dependents, and Department of Defense civilians stationed within the states of Arkansas, Louisiana, Oklahoma, and Texas.
It's through this advocacy and her full-time work as a Regional Manager at Trident that allows her to continue supporting her brothers and sisters in uniform.