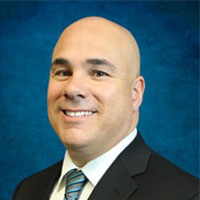 Emanuel "Manny" Sepulveda is a key player in Trident's military and veteran education initiatives. As a Regional Manager of Strategic Military and Community Relations for the Mid-Atlantic Region, Sepulveda works with men and women with a military background who are seeking to further their education. As someone who's made the same transition in the past, he understands the preparation needed to translate their success to the civilian world.
Born in Puerto Rico and raised in Hoboken, New Jersey, Sepulveda enlisted in the Navy in 1988. Throughout his time in the Navy, he earned two Navy Marine Corps Commendation Medals, nine Navy and Marine Corps Achievement Medals, and various unit and campaign awards. He served on submarine duty in the Mediterranean and the Arctic and time as a counselor recruiter.
Sepulveda's transition into the civilian world was relatively stress free, but he's smart enough to know that it could have easily gone much differently. The key to his success has been preparation, a skill he honed during his days in the Navy.
"It's never too early to start networking," Sepulveda said. Networking was key for him. With his friendly, gregarious nature, and established military career, he was able to network and get strategic advice about what he should and should not be doing. When asked what the best advice he received was, he responded without hesitation: "It was to go to school."
Taking his own advice, he earned a Bachelor of Science in Business Administration with a concentration in Human Resources from Trident in 2011.
Finally, his preparation started well before the day he hung up his uniform. The general rule of thumb is to start planning 18 months out, and in that time Sepulveda was able to learn all he could. He developed leadership and communication skills as a Navy recruiter, and spent time as a mentor - an experience that serves him well in his current role.