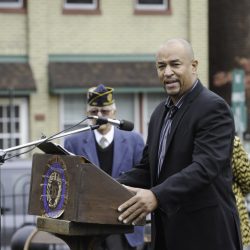 Valentine Cameron, a Regional Manager of Strategic Military and Community Relations for Trident, covers the Northeast region of the United States. He is a veteran of the United States Air Force, retiring after 24 years of service.
His leadership experience is extensive, covering some of the highest levels of the military, including work as a mission planner, planning multiple missions for the White House, Joints Chiefs of Staff, National Security Agency, and NASA. He also has high-level recruitment experience in the Air Force Recruitment Service, recruiting physicians, dentists, pilots, and engineers over the course of two wars.
This past November, he delivered the keynote address at Phillipsburg, NJ's annual Veteran's Day ceremony.
While he did complete two degrees while on active duty, he notes that completing his education was a major challenge for him. When asked how he was ultimately able to succeed, he noted that his "refuse to fail" attitude helped him balance 10-12 hour work days with his education.
Cameron holds a Bachelor of Arts in Social Science from Chapman University in Orange, CA and a Master of Arts in Education from Trident, both achievements he considers among his most fulfilling experiences while in the military.
And what are some of his other standout moments as a service member?
Helping a young, homeless teenager get off the streets and into the Air Force. She is currently an officer.
While stationed in Germany, he planned the mission that brought Jesse Jackson to Bosnia to negotiate the release of three POWs captured during the conflict in the Balkans.
The most fulfilling experience was watching his daughter graduate from WSU before he retired, as it was his service in the Air Force that allowed him to pay for her education. She is now a graduate student at Rutgers in New Jersey.
If you're located in the northeast portion of the United States, keep an eye out for Valentine at your base or in your community.