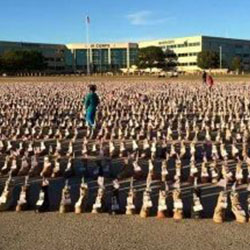 Our Nation is free because of brave Americans, who volunteered to confront our adversaries abroad so we do not have to face them here at home, and I believe it is our responsibility as Americans to preserve the memory of our fallen.

– CSM(R) Philip F. Johndrow
What do a lot of Americans think of when they imagine Memorial Day? We think about an additional day off from work, and spending time getting ready for the summer. Or they think about taking time with friends and family to go to the lake for a picnic, but Memorial Day is not about picnics, barbeques, and ball games.
Instead, it is about honoring those brave Soldiers, Sailors, Airmen, and Marines who died while fighting to protect our country and our freedom. To those who fought for it, freedom has a flavor that the protected will never know.
Today is the day that the whole world should stop and honor and preserve the memory of the fallen heroes who stood up in the face of evil.
While I was the Post Command Sergeants Major at Fort Leavenworth, Kansas, I put on my dress uniform and stood plane-side at the Sherman Army Airfield when they brought one of our heroes home.
Colonel John Michael McHugh had been killed in action on May 18th, 2010 in Kabul, Afghanistan in a car bomb attack. He, along with 5 other heroes, willingly gave their lives so we could live in peace and celebrate this day.
Col. McHugh was a father of five and a soccer coach for grade school children. When Col. McHugh left for Afghanistan, he told his players that he would be back in a few weeks.
His players went into shock when they heard the news. With tears streaming down her eyes, one young girl from the team said, "I guess the Lord needed a good goalie."
As Col. McHugh went on one last patrol through Fort Leavenworth to rally up at his final resting place where heroism and valor sleeps, he did not go alone. On this patrol, he was escorted by hundreds of chariots of veterans, civilians, and soldiers from the Patriot Guard, as well as law enforcement officials from both the civilian and the military community. The procession was over a mile long.
On his last patrol, there were thousands of Soldiers, Sailors, Airmen, Marines, and Civilians lined up on each side of the street, crowding the route as far as the eye could see for several miles.
There were children who came out of school so they could wave their American flags, with those in uniform snapping to attention and rendering a sharp hand salute as tears streaked down their faces as the patrol rumbled by.
All in unison, they were paid their final respects to this hero. Everyone on that street came together realizing that America is a land of many heroes. Resting around the nation in hallowed grounds, we are awed by the presence of these heroes from all around the world.
I want to share with you an inscription that is on a monument dedicated to heroes during the Burma Campaign which so eloquently describes what I think we should all feel today.
Its inscription says,
"When you go home…tell them of us… and say for your tomorrow….we gave our today."
On this Memorial Day we should all tell them of our Soldiers, Sailors, Airmen, Marines, Coasties, and Civilians from around the world who are giving their today for a better future for all Americans.
And for a moment, pause and remember those who had made possible your tomorrows. From the memory of these honored dead, let us recommit ourselves to never forget the sacrifices of these fallen and of their families.
Let us commit ourselves to renew our dedication to the values and ideals that have made this nation what it is today, the greatest nation in the world.
Let us pray for the safety and strength of our troops who are in harm's way and remember their families who are keeping the home fires burning.
And may we each live our lives worthy of their sacrifice, and the sacrifice of all the veterans who have served this great nation.
Those of us who are gathering this weekend to celebrate the time we have together, let's never forget that America is the land of the free because of the brave.
On this Memorial Day, let us remember those who have paid the ultimate sacrifice for our country, and those who fight for our freedom around the world.