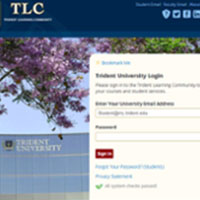 The launch of the Trident Learning Community (TLC) in 2014 was a huge step forward for Trident and the overall student experience! The TLC provided a student portal as an entry point for the Trident classroom.  It dramatically streamlined how our students accessed their information and received university services.
A component of the TLC, the My TLC Classroom was launched in a phased manner at the same time. This provided a dynamic learning management system capable of handling synchronous and asynchronous communication for thousands of students simultaneously.
Last month saw an introduction of even more improvements to the MyTLC Classroom experience!
New features include:
A new improved navigation to the MyTLC Classroom. We've improved the ability to access course content with better navigation. Users now have the ability to flip between content, modules, and discussion topics, as well the ability to drag and drop files.
With more of the Trident student population using mobile devices to access email communication and coursework, we've greatly improved the on-the-go experience. It is now easier to browse for important information and have discussions with classmates while away from their desk.
We've also added grading rubrics to MyTLC Classroom, which will allow students to understand the criteria that professors use when they evaluate their assignments. Lastly, there are now more options for students to stay connected with their professors and classmates. With new participation and discussions posts, the ability to share and receive information with ease has greatly increased.
We hope students like what they see. If there are any suggestions, please leave a comment below!