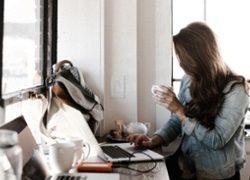 One of the most frequently asked questions from aspiring doctoral students is, "What is the difference between a Ph.D. program and a practitioner-based doctoral program like a Doctor of Education (Ed.D.)?"
Knowing the differences between these two doctoral degrees will help prospective students make the best educational decision for their career goals. If a student is interested in higher education academics or scholarly research, a Ph.D. program will likely be the right fit. Those who are interested in executive management, administration, or consulting should consider a practitioner-based program.
Here are the objectives of both types of doctoral programs in education:
Doctor of Philosophy in Education (Ph.D.)

3 - 5 years in length
Usually higher credits than practitioner-based doctoral programs
Traditional 5 Chapter Dissertation
Trained to explain why things happen in an organization
Main focus is on theory
Independent Research that focuses on new theory
Suited for students whose ultimate goal is to work in academia (teaching, training, research)

Doctor of Education (Ed.D.)

3 years in length
Usually fewer credits than Ph.D. programs
Non-traditional Dissertation project required
Trained to explain how things can be improved
Main focus in on practice
A practitioner-based degree, with research based on application of theory
Suited for students whose ultimate goal is to work in management or administration (school system or business setting)
Learn more about our 100% online Doctor of Education in Educational Leadership (Ed.D.) and Doctor of Philosophy in Educational Leadership (Ph.D.) programs.