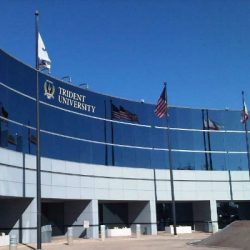 Dr. Betty Cappelletti will walk across the stage as a graduate of Trident's Ph.D. in Health Sciences program in July. This will be the third degree she has earned from Trident - one of only nine such alumni to hold this distinction.
Currently residing in Orange County, CA, Dr. Cappelletti keeps herself busy as the founder and director of Project A-Pulse®, a high school motivational program for students who are interested in the health sciences or careers in medicine. It's a perfect setup for someone who is passionate about teaching and the field of health sciences.
Trident: Since you were a student at Trident, have you made moves upward in your career?
Dr. Betty Cappelletti: I am currently seeking employment at the collegiate level as a professor in health sciences and research. I hope to go into research specifically in the area of ADD, ADHD, or Alzheimer's disease.
Trident: Do you feel that your time as a student at Trident prepared you for current professional role?
BC: Yes, I have gained so much intellectually and grown academically especially in the area of problem solving and thinking out of the box.
Trident: You earned your bachelor's, master's and Ph.D. at Trident - why did you decide to stick with us through all three degrees?
BC: I first went online to research/shop for a university that would give me the flexibility to still work full-time while getting a degree. I spoke to the Admissions Director and she answered all my questions and took the time to give me a rough schedule with the coursework necessary to complete the BSHS with a concentration in radiology. The main "carrot" for me was the personal touch from someone I never met, over the phone.
Once I signed the enrollment agreement, I was very nervous as I had never been in a virtual, online classroom and I was in my late 40's. However, after starting with Trident, I had a wonderful experience and the rest is history.
I believe I received a better education with Trident by having taken online courses than if I had been in a brick and mortar environment. I learned so much, knowledge-wise, and also about myself. I loved the learning process! The road was not easy, and at times difficult, however, looking back, I am so proud of my accomplishments and definitely not the same person I was before I began my educational journey.
Trident: Who are some of the professors that left a positive impression on you?
BC: Although I had numerous professors who are knowledgeable in their respective fields, it has to be without a doubt Dr. Frank Gomez. His wisdom and patience were unwavering throughout the Ph. D. educational process.
Trident: How would you sum up your time at Trident?
BC: As I think back on my educational pursuits (BSHS, MSHS, and Ph.D.) it has been Trident whose academic structure and flexibility, as well as faculty, that allowed me to complete my educational dream.