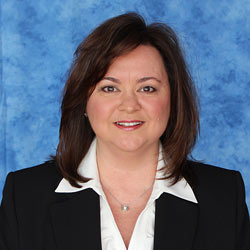 Trident students enter their respective programs with a wide array of professional experiences, representing almost every industry and function area. This diversity of perspectives creates daily learning opportunities for both students and professors.
What makes Dr. Dena Breece, a 2017 Ph.D. in Business Administration graduate, unique is that her professional background is one that her instructors understood very well. Dr. Breece entered the program as a college educator, and by the time she graduated, she was a full-time faculty member and business school department chair.
For all of these educators - Dr. Breece, her dissertation committee, and her instructors - this was another learning opportunity.
Trident: What is your current professional position?
Dr. Dena Breece: I am the department chair of accounting, business administration, entrepreneurship, and management, as well as, an assistant accounting professor at Methodist University in Fayetteville, NC. [Editor's note: Dr. Breece was named associate dean of the Reeves School of Business at Methodist University in August 2018.]
Trident: Since you were a student at Trident, have you made moves upward in your career?
DB: Being a student in Trident's Ph.D. in Business Administration program has enabled me to become a full-time faculty member, department chair, and more advanced professor in my courses.
Trident: Do you feel that your time as a student at Trident prepared you for your current professional role?
DB: Yes. Academic expectations call for a terminal degree. From a professional standpoint, the degree offers credibility to the profession. The Ph.D. indicates that one is considered as an expert in his or her field.
The knowledge gained in the program has challenged me to become a better professor; in turn, I challenge others to become better students and faculty leaders.

Dr. Dena Breece
Trident: Which professors had the biggest impact on you?
DB: I admire each of the professors that taught me in the program. Each offered unique pedagogy in the course to inspire me to stay focused and to study hard.
First, I am especially appreciative of Dr. Indira Guzman. Under Dr. Guzman's tutelage in the DBA699 course (dissertation proposal seminar), I learned the foundation necessary to assist me in completing my dissertation. Dr. Guzman has a genuine concern and high expectations for her students. As such, our success equates to her success. I am very appreciative of her leadership in my course and in the program. She motivated me to press forward especially during the difficult times.
Next, I am very grateful to have had Dr. Giorgio Canarella as my dissertation committee chair. We communicated by email at all times during the day, including nights and weekends. He worked diligently to guide me through the dissertation process to assist me in finishing and earning my degree. Dr. Canarella is very knowledgeable and dedicated to academic studies and scholarly work.
Trident: What else would you like to share about your experience at Trident?
DB: The Trident Ph.D. program has enabled me to grow as an individual. Professionally, the Ph.D. in Business Administration program has provided me with a strong foundation to serve in a leadership role within our university's business school. The knowledge gained throughout the program has further enhanced my pedagogy to allow me to become an even better professor.
Personally, the Ph.D. program has increased my knowledge and respect of quality academic research. The program challenged me to work diligently to conduct my own research and inspired me with the quest to perform future academic research studies.
I am very grateful for the Trident professors for their commitment and passion for research and learning. It has been a privilege to have studied under their tutelage. Earning my Ph.D. from Trident has been one of the most challenging and rewarding achievements in my professional and personal life. It is an honor to be a part of the Trident family.