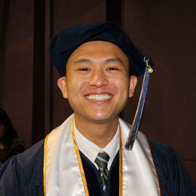 Dr. Joseph Chan is a motivating person, but don't mistake this as me comparing him to a motivational speaker. He motivates through his actions and advice, which has made him an asset at Trident. And it influences those around him.
When he decided to start a doctoral program a few short years ago, I saw this as a natural next step. As a colleague, he's always provided great feedback when I have been seeking answers – but he's never acted like he has all of the answers. On the contrary, he's someone whose quest for knowledge is insatiable, so it's no surprise that he graduated from Trident's Ph.D. in Educational Leadership program at 24.
Dr. Chan, currently Admissions Advisor III and faculty member in Trident's University College, recently talked with us about his dissertation research and how the impact it could have for adult learners and online degree seekers.
Trident: As someone who works in higher education, obviously student success is important to you. Is this what attracted you to your dissertation topic, or was it a combination of factors?
Dr. Joseph Chan: As a higher education professional, I work with adult learners all the time and am very invested in their success. Many colleges have advisors who solely focus on student retention, which is something that I take part in daily.
The increasing number of dropouts within higher education institutions is the main motivation for this study, with a goal to widen the understanding of the factors that motivate or de-motivate students to pursue and complete their degrees.
The study was designed to determine the root cause behind the decline in educational enrollment numbers. The review of different credible secondary data revealed that many analysts were criticizing the high-stakes tests for discouraging students from pursuing higher education.
In short, there is a stereotype that GED holders are less academically prepared than their counterparts who hold a high school diploma, and more likely to employ any form of shortcut. Data also suggest that they have higher dropout rates, some argue that all students' intentions to pursue higher education depend on their extrinsic and intrinsic motivations, which would be equally the case regardless of the credential. In order to close the research gap, this study aimed to investigate the impact of GED exam scores on the adult students' motivation, retention, and critical thinking in higher education.
Trident: Briefly explain the findings of your dissertation. Did the findings differ across demographic groups?
JC: The study revealed that there exists a positive association between motivation and GED exam scores as well as retention and GED scores. The findings further re-enforce existing literature indicating that performance on standardized exams may motivate students to pursue higher education. Based on the responses provided, the findings also show that the participants are already motivated individuals and pursue education to better their personal lives, regardless of the scores they received on their GED exams.
Trident: What are potential ways in which these findings could be actionable in higher education?
JC: The findings are applicable to policymakers, academic researchers, and practitioners in higher education regarding how to make necessary shifts in their educational programs.
Future researchers can explore the deeper relationships between different variables. This can mean different populations from different areas, or those who have different education levels. For example, a study can be done on GED holders who eventually pursue graduate degrees. That study can then be used as predictive and preventive research.
Trident: Now that you have successfully defended your dissertation, what's next?
JC: This dissertation serves as a great starting block to an even larger study. I do see myself presenting in conferences, developing further research, and publishing in academic journals. This topic stems on deeper areas across motivation, retention, and critical thinking. I think it's important that my future studies will incorporate an improved sampling design to consider different institutions and different populations; this then will result in improved overall reliability of the study and richer findings.
Dr. Joseph Chan is a 2019 graduate of Trident's Ph.D. in Educational Leadership program. Dedicated to creating positive student experiences, he has worked at Trident since 2016. Dr. Chan has previously served as an ESL classroom instructor both in the US and overseas in China. Through these experiences, Dr. Chan realized his passion for student success and is committed to helping students reach their personal and professional goals.