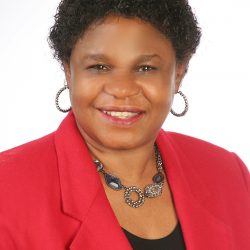 Dr. Priscilla Okunji is a tenure track Assistant Professor in the College of Nursing & Allied Health Sciences at Howard University in Washington, DC. She earned a Ph.D. in Health Sciences from Trident in 2010, and has been part of Howard's faculty since then.
Since her graduation, she has become a distinguished academic researcher. Her latest research project, which commenced earlier this year, is to enhance the use of electronic records to better understand diabetes and cardiovascular disorders in minority populations. Additionally, she has been named a diversity scholar through the Georgetown-Howard Universities Center for Clinical and Translational Science (GHUCCTS).
Trident: Since you were a student at Trident, have you made moves upward in your career?
Dr. Priscilla Okunji: Yes, I advanced from Instructor to Coordinator of the RN-to-BSN track (2011-2016) and tenure track Assistant Professor (2013-present). I have been awarded external and internal grants focused on the use of big data to knowledge (BD2K) to better understand health disparities.
Trident: Do you feel that your time as a student at Trident prepared you for current professional role?
PO: Yes, in terms of quality quantitative research on diseases (diabetes and cardiovascular) that disproportionally affect the underserved and underrepresented using big datasets. In addition, online learning made me resilient and the acquired skills together with a degree in informatics from the University of Maryland enabled the planning, development, and implementation of the first Howard University Division of Nursing RN-to-BSN track to which I was the Coordinator from 2011 - 2016.
Trident: Who are some of the professors that left a positive impression on you?
PO: I am very grateful for all the professors who taught me throughout my doctoral degree program. However, I wish to use this opportunity to express my profound thanks and gratitude to under listed distinguished professors for all their expertise, guidance, and assistance in making my dissertation and career a success:
Frank Gomez, Ph.D., was my professor and mentor as well as the director of the Health Sciences Ph.D. program. Dr. Gomez was instrumental to my current interest in the use of big data to knowledge (BD2K), which formed my dissertation methodology. Beforehand, I had little familiarity with BD2K. He listened to all my concerns and assisted me to solve some of the issues. I am so grateful and thankful that he served on my committee. His accessibility as program director made a world of difference to me. He was the one who answered my calls and responded to my emails promptly. The most important asset for students in any web-based program is prompt communication. Thank you for everything, Dr. Gomez - you are an asset to the University and School of Health & Human Services, especially when it comes to analytics and the formatting of a dissertation paper. Again, thank you, sir!!!
Afrooz Afghani, Ph.D., was my professor and committee chair. I am thankful for her willingness to be my chair without any hesitation when asked. In a professional manner she followed up with me in a way that would help me learn the concepts. This was more helpful than being given the answers. In fact, one of the reasons why she was chosen was that she has demonstrated to me that she was one of the toughest professors during my course work and I chose to work with her in order to be challenged. Dr. Afghani, thanks for being my chair!
Mihaela Tanasescu, MD was my professor and Dean, and I thank her for being there when needed in order to rescue my dissertation proposal prior to the approval for implementation. Her insight on diabetes in relation to my research caused me to rethink my approach. As a result, I came up with Myocardial Infarction (MI) inpatient with Type 2 diabetes (T2D) as my study population, making MI the centerpiece of the proposal approval. Thank you very much for your intellect and foresight. [Editor's note: Dr. Tanasescu is now Trident's Provost and Chief Academic Officer]