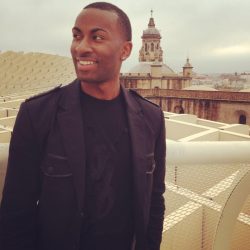 Eric Sessions, Jr. is a U.S. Naval Commissioned Officer, and in this capacity he has been selected by the President of the United States to serve indefinitely as an Information Professional Leader anywhere in the realms of acquisitions, project management, afloat communications systems, joint expeditionary communications planning, and cyber defense capacities.
He is an alumnus of Trident's Bachelor of Science in Information Technology and Master of Science in Information Technology programs.
Trident: Since you were a student at Trident, have you made moves upward in your career?
Eric Sessions, Jr.: Since attending Trident, my professional credentials and accomplishments have increased significantly. Moreover, the education obtained at Trident propelled my opportunities in the U.S. Navy from being a non-commissioned Sailor to getting accepted into the Navy's most rigorous and scrutinized commissioning avenue of Officer Candidate School. This has been a long standing goal of mine that was ultimately accomplished by pursuing higher learning at Trident.
Trident: Do you feel that your time as a student at Trident prepared you for current professional role?
ESJ: Considering the fact that I was able to complete coursework for a BSITM and an MSITM with concentrations in IA/IS and Digital Forensics while on Active Duty, it speaks volumes to the opportunities military students have at Trident. Not to mention, I was deployed during the completion of one degree and the start of my second degree. The coursework was also consistent with my current professional challenges at the time, so it helped foster the best learning environment.
Trident: Who are some of the professors that left a positive impression on you?
ESJ: I can remember in my capstone class my professor, Dr. Mina Richards personally emailed me with positive reinforcement, which is what I needed to get into the right mindset to accomplish my educational goals. Dr. James Koerlin actually wrote a personal letter of recommendation to the U.S. Navy Officer Board, which I believe ultimately aided in my selection to be an Officer today. I am humbly grateful to him for his assistance.