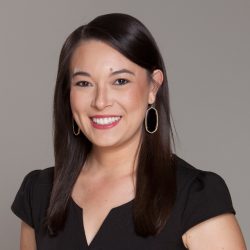 Lights, Camera, ACTION! But first, coffee.
As a morning news anchor, current Trident Master of Business Administration student Gloria Ogletree's alarm goes off early in the morning…very early. She's on set and ready to go live even before the sun is thinking about waking up. From early morning calls to delivering breaking news, morning news anchors are on-air early to help prepare their communities for the day ahead.
But work doesn't end when she's off the set - after arriving home, Gloria moves on to the second part of her day - opening her laptop and logging onto the Trident student portal to work on her homework (likely with the help of more coffee).
Since most Trident students also hold full-time jobs, spanning almost any career field that comes to mind, attending graduate school can be a challenge. The structure and flexibility that Trident offers gives adult students a fighting chance to be successful in the multiple roles they tend to hold.
Gloria decided to attend Trident knowing she would be able to work on assignments on her own time. Some advice from a trusted voice helped out as well.
My dad received two masters degrees through Trident and recommended the MBA program to me.

Gloria Ogletree
Trident: What is your current professional position? During your time at Trident, have you advanced in your career or accomplished specific career goals? How has Trident better prepared you for your career?
Gloria Ogletree: I was recently named the morning news anchor for KFOX14, the local FOX affiliate in El Paso, TX, which was a promotion from my previous role as a news reporter. This promotion has been a career goal for me, for years. The courses I'm taking for the MBA program at Trident have taught me how to be more of a team player and how to smoothly transition into a leadership role.
Trident: How has Trident been able to accommodate the unique needs of you and your family?
GO: Trident has been super accommodating for me to complete an educational goal while juggling a full-time job and a personal life. It is exciting and encouraging to know that I have flexibility in completing my studies, without having to stress about logging in at specific times every day. This is exactly why I chose Trident. My dad received two master degrees through Trident and recommended the MBA program to me. I looked at several other online MBA courses, but the competition doesn't come close.
Trident: Can you describe a time when a course assignment gave you the opportunity to address a real-world problem? (such as a contemporary issue or a situation from your career)
OG: One of the courses I've taken, Management and Organizational Behavior, allowed me to address real-life controversies I've gone through and how to work through them. This is beneficial, in case these issues ever come up again. Also, the information I learned within the course helped me navigate some tough waters within my current work environment. I feel as if it has made me much more understanding and willing to communicate with my co-workers and superiors.
Trident: Would you be willing to give a testimonial about your time at Trident?
OG: Yes. Trident has been such a phenomenal experience. The entire process has been super easy and someone with Trident has walked me through everything, from the application to enrolling and even while working through my first course. I shopped around and did my homework on the various MBA programs offered by universities across the country, none of them came close to Trident. Trident is super accommodating for working professionals who have families and want to achieve an educational goal. I would recommend Trident to anyone 1,000 times over.