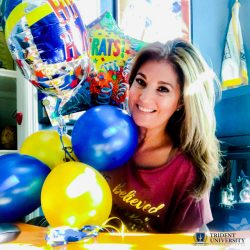 There is always an opportunity to pursue your education goals. Whether it's obtaining a bachelors, masters, or even a doctoral degree, as a student you continue to gain knowledge and succeed academically. Students who continue learning have their own motivations to do so, and with some hard work, they can make anything possible.
Jacqueline Hauck graduated from Trident's Bachelor of Science in Business Administration program in 2013, and just recently earned a Master of Science in Human Resource Management. She is a civilian employee with the military and currently works as an HR Management Analyst for the Program Executive Office Stimulation, Training, and Instrumentation (PEO STRI) in Orlando, Florida.
My masters degree in human resource management prepared me to be a leader within my organization.

Jacqueline Hauck
Trident: How has your Trident experience developed you into a better professional?
Jacqueline Hauck: There is so much that has changed in the world of HR. Talent Management practices are quickly evolving in order to keep up with changes in technology. HR has become part of an organization's overall strategy and companies want HR personnel who understand that level of responsibility and have the training and skills so companies can hire the best candidates and retain them. Getting a masters degree in Human Resources from Trident University has prepared me to do just that; I am humbly and confidently embracing the recognition and opportunities that come with an MSHRM from a regionally accredited and respected academic institution.
Trident: Which professor(s) made the biggest impact in your education?
JH: It is extremely difficult to choose just one. In my experience, each professor provided a different challenge to help me grow. However, I had Dr. Cecile Morris for three of my courses, including Capstone, and I feel that she brought out my best work. I am also very impressed with her credentials; the professors at Trident are highly educated and experienced. This is important to me because I am following their lead for my professional development; I trust their guidance and advice.
Trident: Please share a quote or positive experience about your time at Trident.
JH: Every week, I made a commitment to submit my best work; however, I was not sure if I would be able to retain the information I was researching and writing about. When it came time to start my Capstone, I was writing papers based on lessons learned more than my own research. I was able to apply lessons learned to my everyday tasks in the workplace and there were times, as Dr. Morris may remember, that I even challenged subject matter experts because I too felt like an SME. I feel confident that I am truly ready to grow in my field and contribute to the military Mission as a result of my experience at Trident. I am very proud of my accomplishments - it was not easy, but it was truly worth it.