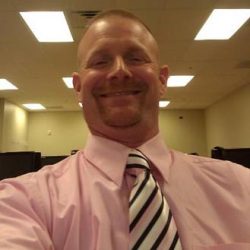 "One would think that working for Medicare would involve individuals with some healthcare experience, but I found that is not the case," stated Trident alumnus John Jenkins. "Most programmatic personnel are accountants, information technology professionals, or MBAs/PMPs. Most had zero experience in healthcare before coming to Medicare. The education I received at Trident helped to make me a better, more versatile employee."
Navy Reservist John Jenkins found his way to Trident after receiving orders to send him overseas. The goal was to complete his bachelors degree - and find a career path that fit his interests. He's been able to achieve that and more, finding a role at Medicare that he really enjoys.
Jenkins is currently enrolled in the Ph.D. in Health Sciences program, and is already well on his way to becoming an expert in his field. He's a three-time Trident graduate, a "Trident Triple," completing the Master of Science in Healthcare Administration (2014), Master of Science in Health Sciences (2012), and Bachelor of Science in Health Sciences (2010) programs.
Trident: What is your current professional position? Since you were a student at Trident, have you made moves upward in your career? Or accomplished specific career goals?

John Jenkins: Currently, I manage all future medical care recovery for the Division of Secondary Payer Operations at the Centers for Medicare and Medicaid. Concisely, we ensure that Medicare does not make any future payments for care that should have been covered by another insurance carrier. I joined Medicare directly from my sixth activation as a Naval Reservist. Before my first degree, I was involved with school security, looking for a way to improve my lifestyle. Originally, I expected to go the traditional route of a healthcare administrator for a medium to large healthcare system. However, I found that I really enjoy the work I do at Medicare.
Trident: Do you feel that your time as a student at Trident prepared you for your current professional role?

JJ: The education I received at Trident, coupled with my experience, has made me a much more versatile employee at Medicare. I am regularly asked questions that are outside the scope of my position, simply because others recognize my understanding of healthcare operations or clinical healthcare. When asked operational questions, my experience with Trident frequently gave me knowledge I used to address those situations.
Trident: Who are some of the professors that left a positive impression on you?
JJ:

Carey Ford - I had not taken a math course in roughly 25 years. Imagine the concern I had while having to take what is labeled as an advanced statistics course. That course was so straightforward that I had no trouble understanding what was going on.
Sharon Nazarchuk - I had a number of courses with her at each degree level. Each was consistently delivered with great responsiveness to questions
As a rule, I found that the delivery from most of my professors was consistent. There did not seem to be changes in delivery or evaluation.
Trident: What else would you like to share about your experience at Trident?

JJ: Trident offered me the best bang for my buck. I was in a nursing program at my third year. I was beginning to understand that I was not intended for nursing due to my personality. Suddenly, I received another set of orders sending me overseas. I decided that I needed to come back with a degree, so I began searching for programs that I could finish remotely, were regionally accredited, and provided a schedule that I could meet while operating as the senior enlisted for all clinical operations at a 65 bed trauma center in Afghanistan. Trident (then TUI) offered me all of that. Fifty-two credit hours later, and before I left Afghanistan, I could finally say I was a graduate. The combination of schedule and program opportunities fit well with my background.
For example, I had been a firefighter/EMT, peace officer, and Navy Corpsman. Having a bachelors degree in the associated college led to my taking my first master's (MSHS with a concentration in Emergency Disaster Management) as a matter of personal interest. I do not look at education as a destination, but as a journey, where each accomplishment only lights a section of the path further along. Trident has provided that for me.