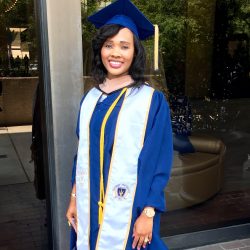 My name is Roberta Phillips Yawu, born November 12, 1980, in the West African nation of Liberia. I am presently residing in Akron, OH. As a mother of three wonderful boys, I just recently received my online Master of Business Administration with a concentration in Information Technology Management from Trident University International. I have a BSc Degree in Electronics Engineering (cum laude) and I am Cisco Certified.
My current employment is with Signet Jewelers, Inc. as a PC Support Analyst. My previous jobs include a Registry Systems Analyst for Tetra Tech ARD (USAID Contractor) and an Information Technology Specialist for ArcelorMittal.
Before reaching this point in life, let me first give you a sense of where I come from and what I have gone through. Life is not a walk in the park or the faint hearted. We are all faced with our own challenges, but my goal has always been to overcome these challenges in order to pursue my passion.
Liberia has many cultural expectations for women, but being a professional in the technology or engineering fields is not an expected path for women. The general attitude of many in Liberia can be discouraging for young girls looking to pursue their dreams. For me, looks of scorn, doubt, or disbelief were common psychological barriers.
Being engulfed in a 15-year civil war made school almost impossible. The classrooms did not have seating, so we had to bring our own desk to school. Imagine the difficulty of carrying your chair and books to school every morning. Because of the political instability, military check points were everywhere. Citizens were commonly harassed and abused at these checkpoints. During this time in Liberia it was literally a life or death situation going to school.
At the age of 12, I became very curious about airplanes, wondering how they flew and how they were constructed. I continued to ponder this until I watched a movie called "Air Force One." This movie inspired me. I started telling people I wanted to work on the switchboard of an aircraft, but no one gave me any encouragement to pursue my dream. All those I shared my dream with, had discouraging things to say about women doing that type of work.
I was told that a woman cannot do this in Africa without a scholarship. Considering my background I did not know where to start or who to talk to. I started attending a computer school but my heart and passion was on fixing planes. One day my grandmother went to the market and obtained information about the United States Government giving scholarships to females interested in engineering. A test was being offered on a Saturday at the Don Bosco Polytechnic Campus, so she encouraged me to go register for the test.
With the help of God, I took the test and was selected! After the career day, I chose to do Electronics Engineering, eventually developing a passion for information communication technology. My interest was piqued as I started reading more about the subject. My visits to the computer lab every day helped me to gain a basic understanding and proficiency level.
After achieving an AA degree in Electronics Engineering, I was assigned to PAE on-the-job training. My boss at that time was always convinced that I was doing a "man's job" until I proved him wrong one day, by installing a communications Athena on the tower. If I could do this, surely other young women could succeed as well.
I started talking to girls in high schools who were interested in ICT. Internet Society, an international organization promoting the growth of the internet, wanted to establish a chapter in Liberia. In collaboration with Internet Society Liberia Chapter (ISOC-Liberia), I used my experiences to help introduce more girls to the field of information communication technology.
At times balancing work and school made it almost impossible to study. With determination and the grace of God, I successfully made it through the program, graduating magna cum laude.
Life is a series of tests or challenges. At every turn we can be faced by difficulty. All people strive to succeed and understand their place or purpose in the world. In countries like my home of Liberia, we have been forced to live under extraordinary circumstances. One can only survive in these conditions if one believes in a higher order. As I reflect on my life, the hands of Heavenly Father have always seemed to guide me to safety and success.