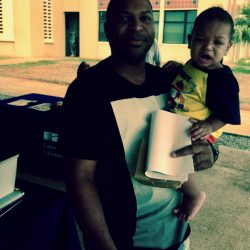 Trident helped me to fulfill my educational goals and dreams, teaching me that if I plot my goals and take things in stride I will accomplish anything. I've also strengthened my professional skills, which helps me to understand better what coworkers expect and how to work as a team.
Thanks to my time at Trident, I've improved my interpersonal skills, have become more self-aware, and have become more empathic towards others. I've been able to develop leadership skills so I can empower others, allowing me to put the needs of the group ahead of my own.
At first, keeping up with my education was a challenge. As I moved to different military installations, I would often lose credits enrolling in courses at different schools. It was hard not to think I was going nowhere fast, but things changed after I enrolled at Trident and worked with its faculty.
They were able to provide reassurance, stressing that it's not a matter of how fast you reach your goals, but how you achieve them. Once I completed my Bachelor of Science in Business Administration, I wanted to stop, but a member of the faculty leadership had other ideas. He said I should press on because it's so much harder to start again after taking a break.
The Trident University Experience has taught me that whatever I want to do, I can achieve regardless of age or career progression. It's never too late to fulfill your dreams.
Participating in a Black History Month event at the Tripler Army Medical Center Memorial Museum in Hawaii, I met Dr. Dorothy Marie Goldsborough. Dr. Goldsborough, widow of original documented Tuskegee Airmen Romaine Goldsborough, who also fulfilled her dreams late in life. She earned a Ph.D. from University of Hawaii, Manoa in 1997 at age 71, and became a Professor Emeritus at Chaminade University in 2002. She was articulate, knowledgeable, and extremely passionate about the social sciences - a truly amazing person.
Aspire, Believe, Achieve!