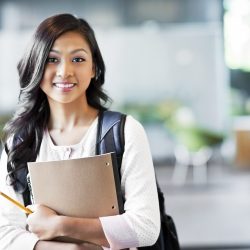 Have you wanted to take your skills to the next level, perhaps for a promotion or to break into a new industry? Education will help you get there, but before you get started make sure you're adequately prepared to begin your studies.
Here are some ways to prepare yourself before starting a degree program:
1. Admit Your Fears
The first step on your journey is to admit your fears. These fears and concerns are also shared by other working professionals who are considering going back to school, whether it is a traditional college setting or online. By acknowledging your worries upfront, these challenges can be dispelled through understanding their cause and proactively addressing them.
Self-assessments are often helpful, and will help you as you advance further into your chosen program.
2. Set Goals
Returning to school will increase your workload and tighten what is likely an already busy schedule. In order to stay focused on your goals, write down your objectives and keep them some place where you can see them. Having a constant reminder of what you want to achieve both short term and long term will give you the motivation to navigate through your course work and life commitments, even during stressful periods.
3. Always Read the Syllabus
Once you're in class, make sure you read the syllabus before each course starts. Print it out and highlight the dates of exams and assignment due dates. As an adult returning to school, knowing your commitments and deadlines ahead of time will make it much easier to balance your busy schedule.
Returning to school doesn't have to be a stressful experience - all it takes is a little planning and hard work. By managing your time wisely and preparing upfront for each session you'll be able to meet your goals, including the best one of all: graduation!
Joseph Chan is an Admissions Advisor at Trident University International who works with both civilian and military students at the undergraduate and graduate levels. He holds a B.A. in Public Relations from California Baptist University, a M.Ed. in Postsecondary Administration and Student Affairs from University of Southern California, and is currently a Ph.D. in Educational Leadership candidate at Trident. With experience at both brick-and-mortar school and online institutions, Joseph is passionate about sharing his experiences to help others achieve their educational goals.